Guide To Fishing At Dillon Reservoir
AKA: Lake Dillon
What to fish for...
Fishing for rainbow trout, brown trout, kokanee salmon and Arctic char at Dillon Reservoir in Colorado.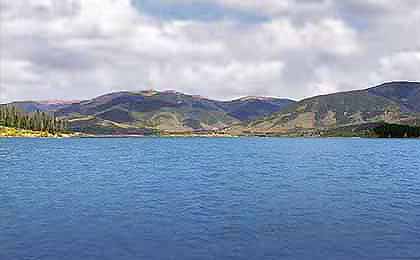 Boasting 3,500 surface acres for boating and fishing, Dillon Reservoir is the largest body of water in the Denver water system. Anglers who enjoy fishing from the bank can choose their own stretch of more than 25 miles of shoreline and wet a line. The lake is home to trout, salmon and char.
Situated amidst the majestic Rocky Mountains, Dillon Reservoir in Colorado is a popular destination for outdoor enthusiasts seeking a variety of recreational activities. Fishing enthusiasts are drawn to the reservoir's abundant fish population, making it a prime spot for angling adventures. Dillon Reservoir is home to various species, including rainbow trout, brown trout, kokanee salmon, and Arctic char. Anglers can cast their lines from the shore or venture out on a boat to explore the reservoir's vast expanse and find the perfect fishing spot.
Boating is another cherished activity at Dillon Reservoir. Boaters can navigate the reservoir's tranquil waters and admire the stunning mountain vistas that surround them. Whether you prefer sailing, power boating, kayaking, or paddleboarding, Dillon Reservoir provides an ideal setting for a day on the water. The marinas located along the shoreline offer boat rentals and convenient launching facilities, ensuring a seamless boating experience.
Camping at Dillon Reservoir is a popular choice for those looking to immerse themselves in the natural beauty of the area. The reservoir features several campgrounds that provide both tent and RV sites, complete with amenities such as picnic areas, restrooms, and fire pits. Camping at Dillon Reservoir allows visitors to wake up to breathtaking views, enjoy outdoor activities throughout the day, and relish the tranquil evenings under the starry skies.
Dillon Reservoir, with its exceptional fishing opportunities, versatile boating options, and scenic camping facilities, offers a complete outdoor experience for all. Whether you're a passionate angler, an avid boater, or a nature lover seeking a peaceful camping getaway, Dillon Reservoir provides a picturesque setting where you can indulge in your favorite activities while basking in the beauty of the Colorado mountains.
Pine Cove Campground, Frisco Bay Marina and Dillon Marina all have boat launch ramps for pontoons, pleasure boats and fishing boats.

Fish Species in Dillon Reservoir, CO
Lake Dillon Amenities
Marina: YES
Boat Rentals: YES
Boat Launch Ramp: YES
Campgrounds: YES
RV Hookups: YES
Lodging: YES
Concessions: YES
Bait & Tackle: YES
Restaurants: YES
Today's Weather & Forecast
Fishing Boat Rentals
Dillon Marina
Rentals: Pontoon boats
970 468-5100
Frisco Bay Marina
Rentals: Fishing boats, canoes, kayaks and pontoon boats
970 668-4334
Marinas
Dillon Marina
150 Marina Dr
Dillon, CO 80435
970 468-5100
Public Boat Launch Ramps & Landings
Dillon Marina Park Pavilion Boat Ramp
Located at the northwest corner of the lake, this is a really nice launch area. It has a four-lane, concrete ramp with a dock and lots of paved parking.
Frisco Bay Marina Boat Launch Ramp
Located at the southwest corner of the lake, this is a great launch area. It has a two-lane, concrete ramp with a dock and lots of paved parking.
Pine Cove Campground Launch Ramp
This is a four-lane, concrete ramp with a dock and limited parking. It is located in Pine Cove Campground, on the south side of the lake.
Click here for a Colorado fishing license.
Closest Campgrounds & RV Parks
Heaton Bay Campground - 970 468-7681
Peak One Campground - 877 444-6777
Prospector Campground - 877 444-6777
Windy Point Group Campground - 970 468-7681
Dillon Reservoir CO Map - Fishing & Camping Areas
Lake Video
Contact Information
Lake Dillon
Dillon, Colorado
275 Lake Dillon Dr.
Dillon, CO 80435
Fishing lakes in each state.
Dillon Reservoir in CO.
COLORADO


Trout and salmon fishing in north-central CO.
Dillon Reservoir fishing lake in Colorado.