Guide To Fishing At Williams Fork Reservoir
What to fish for...
Fishing for rainbow trout, kokanee salmon, lake trout, walleye, northern pike, and brown trout at Williams Fork Reservoir in Colorado.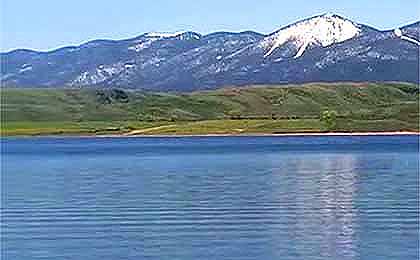 At over 1,600 surface-acres, Williams Fork Reservoir offers excellent ice fishing in winter and plenty of boat and shoreline fishing options during the warmer months. The lake is stocked with trout, salmon, walleye and pike. There is a boat launch ramp and campgrounds with RV hookups at the lake. About a third of the 15 miles of shoreline is accessible for fishing from the bank.
Williams Fork Reservoir, located near Parshall, Colorado, is a hidden gem for fishing enthusiasts seeking a serene angling experience. The reservoir is known for its excellent fishing opportunities and is home to a variety of fish species. Anglers can expect to catch species such as rainbow trout, brown trout, kokanee salmon, lake trout, and northern pike. With its diverse fish population and well-stocked waters, Williams Fork Reservoir offers a fantastic fishing experience for both beginners and experienced anglers.
Boating on Williams Fork Reservoir is a popular activity, providing visitors with the opportunity to explore the expansive lake and enjoy the surrounding natural beauty. The reservoir permits both motorized and non-motorized watercraft, making it suitable for a variety of boating experiences. Whether you have a powerboat, kayak, canoe, or paddleboard, Williams Fork Reservoir offers ample space to navigate and enjoy water sports activities such as water skiing, tubing, and wakeboarding. Boat ramps are available for convenient access to the water, ensuring a smooth and enjoyable boating experience.
Camping near Williams Fork Reservoir allows visitors to immerse themselves in the tranquility of the outdoors and make the most of their time in the area. The reservoir offers several campgrounds with various amenities, including tent sites, RV sites, picnic areas, fire pits, and restroom facilities. Whether you prefer a primitive camping experience or a more developed camping area with electrical hookups, Williams Fork Reservoir provides options to suit different camping preferences. Camping near the reservoir allows for a peaceful retreat, where campers can enjoy the beauty of the surrounding landscapes, stargaze at night, and partake in outdoor activities such as hiking, biking, and wildlife viewing.
Williams Fork Reservoir, with its abundant fishing opportunities, enjoyable boating experiences, and scenic camping options, offers a complete outdoor getaway for nature enthusiasts. Whether you're an angler seeking to catch your next trophy fish, a boating enthusiast looking to explore the reservoir's waters, or a camper eager to embrace the serenity of the Colorado wilderness, Williams Fork Reservoir provides a picturesque setting to indulge in your favorite outdoor activities while immersing yourself in the natural beauty of the area.

Fish Species in Williams Fork Reservoir, CO
Williams Fork Reservoir Amenities
Marina: NO
Boat Rentals: NO
Boat Launch Ramp: YES
Campgrounds: YES
RV Hookups: YES
Lodging: NEARBY
Concessions: NO
Bait & Tackle: NO
Restaurant: NO
Today's Weather & Forecast
Public Boat Launch Ramps & Landings
Williams Fork Reservoir - West Ramp
Located mid lake, on the west side of the lake, this is a one-lane, concrete ramp with gravel parking.
Williams Fork Reservoir Campground Boat Ramp
Located mid lake, on the east side of the lake, this is a one-lane, concrete ramp with a dock and limited gravel parking.
Click here for a Colorado fishing license.
Closest Campgrounds & RV Parks
Williams Fork Lodging - 970 725-3336
Williams Fork Reservoir CO Map - Fishing & Camping Areas
Lake Video
Contact Information
Williams Fork Reservoir
Colorado Parks and Wildlife
303 291-7227
US Forest Service
719 545-8737
Fishing lakes in each state.
Williams Fork Reservoir in CO.
COLORADO


Trout, walleye and salmon fishing in north-central CO.
Williams Fork Reservoir fishing lake in Colorado.