Crappie Fishing In Colorado
Guide to fishing for black and white crappie.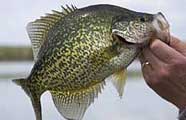 Crappie are actually a member of the sunfish family and can be found in many Colorado lakes. Crappie are known by many different local names. Paper mouth, goggleye, bridge perch, slabs and speckled perch, are just a few.
Crappie fishing in Colorado is a popular pursuit among anglers who appreciate the challenge and reward of catching these panfish species. The two main crappie species found in the state are black crappie (Pomoxis nigromaculatus) and white crappie (Pomoxis annularis). Both species offer exciting fishing opportunities and can be found in various lakes, reservoirs, and rivers across Colorado. The purpose of this page is to share basic information about crappie fishing and crappie lakes in the state.
Crappie Fishing Basics Video
Black crappie are known for their distinctive coloration, with dark speckles covering their silvery bodies. They have a deep body and a slightly rounded shape. Black crappie prefer clear and cool waters, often found near submerged structures such as brush piles, fallen trees, or aquatic vegetation. Anglers targeting black crappie often use small jigs, live minnows, or small spinners. These fish are renowned for their tasty white meat and can reach sizes up to 12 inches or more, providing a delightful catch for anglers and a delicious meal for those who enjoy eating their catch.
White crappie are another sought-after species in Colorado's waters. They have a lighter coloration with vertical bars along their bodies. White crappie have a more elongated body shape compared to black crappie. They are commonly found in lakes and reservoirs with slower currents and ample vegetation. White crappie are opportunistic feeders and can be caught using a variety of baits and lures, including small jigs, minnows, and soft plastic baits. Anglers can expect white crappie to grow to sizes similar to black crappie, making for a fun and productive fishing experience.
Both black crappie and white crappie are known for their schooling behavior, which means that where you find one, you are likely to find more. It is not uncommon for anglers to catch multiple crappie in a single location once they locate a school. Crappie fishing can be productive year-round in Colorado, with spring and fall generally considered the prime seasons for these fish.
Colorado's lakes and reservoirs provide ample opportunities for crappie fishing enthusiasts, whether targeting black crappie or white crappie. It is important for anglers to familiarize themselves with the fishing regulations and size limits specific to the waters they plan to fish. With the right gear, techniques, and a bit of patience, anglers can enjoy a rewarding day on the water, reeling in these tasty and spirited crappie species.

Crappie Waters In CO
Like bass in Colorado, crappie have a slow growing season. However, they are plentiful in several lakes throughout the state including Adobe Creek Reservoir, Bonny Reservoir, Chatfield Reservoir, Cherry Creek Reservoir, Horsetooth Reservoir, Lathrop State Park, Navajo Reservoir, North Sterling Reservoir, Northglenn Lake, Pueblo Reservoir, Rifle Gap Reservoir and Sloan Lake.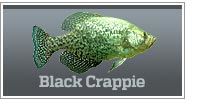 World record: 6 lbs 0 oz
State Record: 3 lbs 7.84 oz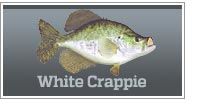 World record: 5 lbs 3 oz
State Record: 4 lbs 3.75 oz
Click the images and links above for species details.
Top 5 Crappie Fishing Lures For Colorado
Crappie jigs work well in water from 2' to 40' deep, and are the most popular artificial lure for crappie ever. When crappie are shallow, spinners, small crankbaits and underspins are the often very productive. As they move deeper, spoons are among the top producers if the crappie are active. Review details for the best crappie rig options. Understanding the seasonal movements of crappie can enhance your chances of using these lures in the ideal locations.
The state record black crappie was caught from Frank State Wildlife Area.
Northglenn Lake produced the state record white crappie.
Check out crappie information, by state.
The life cycle of crappie.
The more you know about crappie, the easier it will be to locate and catch them in Colorado lakes and rivers. Visit the crappie fishing page for details about their seasonal migrations.
COLORADO