Guide To Fishing At Ridgway Reservoir
What to fish for...
Fishing for smallmouth bass, rainbow trout, brown trout, splake trout, kokanee salmon, green sunfish and yellow perch at Ridgway Reservoir in Colorado.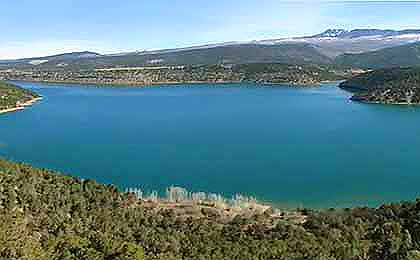 Showing off the beauty of Colorado outdoors, Ridgway Reservoir offers great fishing for trout, salmon and smallmouth bass. The lake level often varies, and the size of the lake can exceed 1,000 surface acres when full. Other ways to enjoy this vacation paradise include hiking, boating, picnicking and camping.
Ridgway Reservoir, located in the scenic town of Ridgway, Colorado, is a paradise for fishing enthusiasts. The reservoir is renowned for its excellent fishing opportunities and the variety of fish species that inhabit its waters. Anglers can expect to catch rainbow trout, brown trout, kokanee salmon, yellow perch, and smallmouth bass. Whether you prefer fishing from the shore, wading in the water, or launching your boat, Ridgway Reservoir offers a peaceful and picturesque setting to cast your line and reel in your catch.
Boating on Ridgway Reservoir is a popular activity, allowing visitors to explore the expansive waters and enjoy a day of adventure. The reservoir permits motorized boats, providing opportunities for water skiing, wakeboarding, and leisurely cruises. Non-motorized watercraft such as kayaks, canoes, and paddleboards are also welcome. Boaters can admire the surrounding mountain vistas, soak in the tranquility of the reservoir, and even find secluded spots for fishing or wildlife viewing. With convenient boat ramps and a marina, Ridgway Reservoir ensures easy access to the water and a seamless boating experience.
Camping near Ridgway Reservoir allows visitors to fully immerse themselves in the natural beauty of the area and extend their outdoor adventures. The reservoir offers several campgrounds with various amenities, including tent sites, RV sites with hookups, picnic areas, restrooms, and fire pits. Whether you prefer a primitive camping experience or desire more modern facilities, Ridgway Reservoir provides options to suit different camping preferences. Camping in this picturesque setting offers a chance to witness stunning sunsets, stargaze under the clear night sky, and partake in outdoor activities like hiking and wildlife spotting.
Ridgway Reservoir, with its diverse fishing opportunities, enjoyable boating experiences, and well-equipped campgrounds, offers a complete outdoor getaway for visitors. Whether you're an avid angler, a boating enthusiast, or simply seeking a peaceful camping retreat, Ridgway Reservoir in Colorado provides a stunning backdrop to indulge in your favorite activities while immersing yourself in the natural beauty of the reservoir and its surrounding mountainous landscapes.

Fish Species in Ridgway Reservoir, CO
Ridgway Reservoir Amenities
Marina: Docks
Boat Rentals: NEARBY
Boat Launch Ramp: YES
Campgrounds: YES
RV Hookups: YES
Lodging: NEARBY
Concessions: NEARBY
Bait & Tackle: NEARBY
Restaurant: NEARBY
Today's Weather & Forecast
Fishing Boat Rentals
Ridgway State Park Visitors Center
Rentals: Pontoon boats
970 626-5822
Public Boat Launch Ramps & Landings
Ridgway Reservoir Boat Launch Ramp
This is a four-lane, concrete ramp with a dock and paved parking. It is located mid lake on the east side of the lake
Click here for a Colorado fishing license.
Closest Campgrounds & RV Parks
Elk Ridge Campground - 970 626-5822
Pa-Co-Chu-Puk Campground - 303) 470-1144
Dakota Terraces Campground
Ridgway Reservoir CO Map - Fishing & Camping Areas
Lake Video
Contact Information
Ridgway Reservoir
Colorado Parks & Wildlife
Park Office
28555 Highway 550
Ridgway, CO, 81432
970 626-5822
Fishing lakes in each state.
Ridgway Reservoir in CO.
COLORADO


Bass, salmon and trout fishing in southwest CO.
Ridgway Reservoir fishing lake in Colorado.