Guide To Fishing At McPhee Reservoir
What to fish for...
Fishing for largemouth bass, smallmouth bass, black crappie, rainbow trout, walleye, kokanee salmon and yellow perch at McPhee Reservoir in Colorado.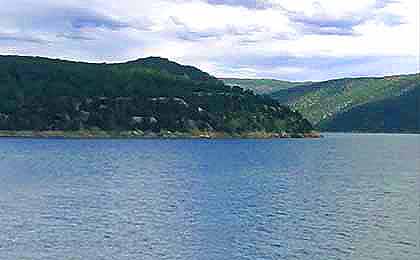 Nearby Delores, Colorado, McPhee Reservoir is 4,500 surface acres of boating and fishing paradise. There are over 50 miles of shoreline to explore, some of which has access for fishing from the bank. At an elevation of 6,900 feet it supports both warm-water and cold-water species of fish, making it a favorite of a broad spectrum of anglers.
McPhee Reservoir, located in southwestern Colorado, is a paradise for fishing enthusiasts seeking a memorable angling experience. The reservoir is known for its excellent fishing opportunities and diverse fish species. Anglers can find an abundance of fish in McPhee Reservoir, including rainbow trout, brown trout, kokanee salmon, smallmouth bass, and catfish. Whether you prefer fishing from the shore, casting from a boat, or even ice fishing during the winter months, McPhee Reservoir offers ample opportunities to reel in your favorite catch.
Boating on McPhee Reservoir is a popular activity, allowing visitors to explore the expansive waters and soak in the stunning mountain scenery. The reservoir provides plenty of space for boaters to cruise along the calm waters and enjoy various water activities. Whether you have a motorized boat, a kayak, or a canoe, McPhee Reservoir caters to all types of watercraft. Boaters can enjoy fishing, water skiing, or simply relaxing and taking in the serene surroundings. The reservoir's boat ramps and marina facilities make launching and navigating the waters convenient for boating enthusiasts.
Camping near McPhee Reservoir is a wonderful way to extend your outdoor experience and fully immerse yourself in the natural beauty of the area. The reservoir offers several campgrounds with a range of amenities, including tent sites, RV sites, picnic areas, restrooms, and fire pits. Camping at McPhee Reservoir allows you to wake up to stunning views, embark on scenic hikes, and enjoy the peacefulness of the outdoors. Whether you prefer a rustic camping experience or a more comfortable camping setup with modern facilities, McPhee Reservoir has options to suit various camping preferences.
McPhee Reservoir, with its exceptional fishing opportunities, versatile boating options, and scenic camping facilities, offers a complete outdoor experience for visitors. Whether you're an avid angler, a boating enthusiast, or simply seeking a serene camping getaway, McPhee Reservoir in Colorado provides a picturesque setting to indulge in your favorite activities and immerse yourself in the beauty of the surrounding landscapes.
Bass, crappie, walleye, salmon, perch and trout reside in the lake and provide good fishing year round. Rental boats, boat launch ramps and a marina deliver a great experience whether you prefer pleasure boating and water sports or fishing.

Fish Species in McPhee Reservoir, CO
McPhee Reservoir Amenities
Marina: YES
Boat Rentals: YES
Boat Launch Ramp: YES
Campgrounds: YES
RV Hookups: YES
Lodging: YES
Concessions: YES
Bait & Tackle: YES
Restaurant: NEARBY
Today's Weather & Forecast
Public Boat Launch Ramps & Landings
House Creek Recreation Complex Launch Ramp
Located mid lake, on the east side of the lake, this is a two-lane, concrete ramp with docks and paved parking.
Mcphee Boating Site
Located in McPhee Recreation Area, on the southwest side of the lake, this is a five-lane, concrete ramp with docks and plenty of paved parking.
Click here for a Colorado fishing license.
Closest Campgrounds & RV Parks
Cortez / Mesa Verde KOA Campground - 970 565-9301
McPhee Recreation Campground
McPhee Reservoir CO Map - Fishing & Camping Areas
Lake Video
Contact Information
McPhee Reservoir Campground
USDA Forest Service
San Juan National Forest
15 Burnett Court
Durango, CO 81301
970 247-4874
Fishing lakes in each state.
McPhee Reservoir in CO.
COLORADO


Bass, crappie, trout and salmon fishing in southwest CO.
McPhee Reservoir fishing lake in Colorado.