Guide To Fishing At Crystal Creek Reservoir
AKA: Crystal Creek Lake
What to fish for...
Fishing for rainbow trout, cutthroat trout, brook trout, brown trout and lake trout at Crystal Creek Reservoir in Colorado.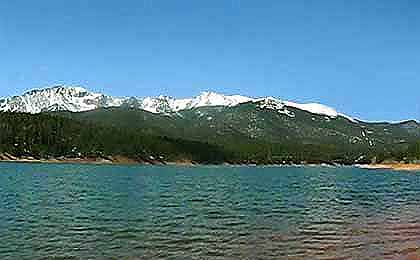 A kids fishing paradise, Crystal Creek Reservoir is located on Pikes Peak with easy access to this 136-acre lake, with over three mile of shoreline. This is a trout fishery for young and old, beginners and experienced anglers. Boating is limited to carry-in boats.
Crystal Creek Reservoir, nestled in the pristine wilderness of Colorado, offers a serene and secluded destination for outdoor enthusiasts. The reservoir provides excellent fishing opportunities for anglers seeking a peaceful escape. Crystal Creek Reservoir is known for its healthy population of trout, particularly rainbow trout and brown trout. Anglers can enjoy casting their lines into the crystal-clear waters, surrounded by the beauty of nature and the serenity of the reservoir.
While Crystal Creek Reservoir does not permit motorized boating, non-motorized watercraft such as canoes, kayaks, and paddleboards are allowed. This restriction ensures a tranquil boating experience, allowing visitors to explore the reservoir at a leisurely pace. Glide across the calm waters, revel in the breathtaking views, and embrace the solitude that Crystal Creek Reservoir offers.
Camping enthusiasts will find solace in the rustic camping opportunities available at Crystal Creek Reservoir. The surrounding area offers primitive campsites nestled among towering trees and natural beauty. Although the camping facilities are minimal, visitors can truly immerse themselves in nature and disconnect from the outside world. Sleeping under the stars, listening to the soothing sounds of the creek, and waking up to the crisp mountain air are the highlights of camping at Crystal Creek Reservoir.
Crystal Creek Reservoir, with its abundant fishing, non-motorized boating options, and primitive camping experiences, provides a serene escape for those seeking solitude and natural beauty. Located in the heart of Colorado's wilderness, this hidden gem offers a tranquil haven where outdoor enthusiasts can indulge in fishing, boating, and camping, surrounded by breathtaking landscapes and the peaceful ambiance of the reservoir.

Fish Species in Crystal Creek Reservoir, CO
Crystal Creek Reservoir Amenities
Marina: NO
Boat Rentals: NO
Boat Launch Ramp: Carry-in only
Campgrounds: Picnic only
RV Hookups: NO
Lodging: NO
Concessions: NO
Bait & Tackle: NO
Restaurant: NO
Today's Weather & Forecast
Click here for a Colorado fishing license.
Closest Campgrounds & RV Parks
Lone Duck Campground - 719 684-9907
Diamond Campground and RV Park - 719 687-9684
Crystal Creek Reservoir CO Map - Fishing & Camping Areas
Lake Video
Contact Information
Crystal Creek Reservoir
303 684-9138
Fishing lakes in each state.
Crystal Creek Reservoir in CO.
COLORADO


Excellent trout fishing in central CO.
Crystal Creek Reservoir fishing lake in Colorado.