Guide To Fishing At Lake Pueblo
AKA: Pueblo Reservoir
What to fish for...
Fishing for largemouth bass, smallmouth bass, channel catfish, blue catfish, flathead catfish, black crappie, walleye, rainbow trout, rainbow/cutthroat hybrid, bluegill, yellow perch, saugeye, and wiper at Lake Pueblo in Colorado.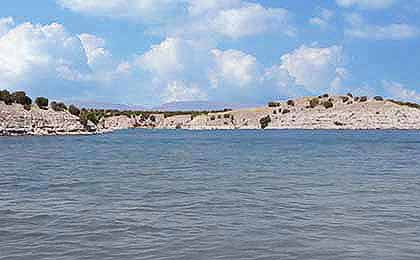 Several boat launch ramps and two marinas stand ready to welcome boaters at Pueblo Reservoir. 4,000 surface acres, 60 miles of shoreline and a nice variety of fish species await anglers at this fertile fishery in central Colorado. Bass, walleye, crappies, trout, catfish and wipers all draw fishing enthusiasts that enjoy the option to fish for both warm-water and cold-water species.
Lake Pueblo, situated in southern Colorado, is a popular destination for fishing enthusiasts seeking a diverse angling experience. The reservoir boasts an impressive variety of fish species, making it a paradise for both freshwater and warm-water fishing. Anglers can expect to catch species such as rainbow trout, walleye, largemouth bass, smallmouth bass, catfish, crappie, and bluegill. Whether you prefer casting from the shoreline, fishing from a boat, or even trying your hand at ice fishing during the winter months, Lake Pueblo provides abundant opportunities to reel in a prized catch.
Boating on Lake Pueblo is a favorite activity among visitors, as the reservoir offers ample space for water-based adventures. Boaters can explore the expansive waters, enjoy a day of fishing, or engage in water sports such as water skiing, wakeboarding, and tubing. The marina at Lake Pueblo State Park provides convenient access to boat ramps, rentals, and other amenities to enhance the boating experience. Whether you have a motorized boat or prefer non-motorized watercraft such as kayaks and paddleboards, Lake Pueblo caters to all types of boating enthusiasts.
Camping at Lake Pueblo is a fantastic way to fully immerse yourself in the outdoor beauty of the area. The reservoir offers several campgrounds with a range of amenities, including tent sites, RV sites with hookups, picnic areas, restrooms, and fire pits. Whether you seek a rustic camping experience or desire more modern facilities, Lake Pueblo has options to accommodate various preferences. Camping near the reservoir allows you to wake up to stunning views, embark on scenic hikes, and enjoy the tranquility of the surrounding landscape.
Lake Pueblo, with its diverse fishing opportunities, exciting boating experiences, and well-equipped campgrounds, offers a complete outdoor getaway for visitors. Whether you're an avid angler, a boating enthusiast, or simply seeking a peaceful camping retreat, Lake Pueblo in Colorado provides a picturesque setting to indulge in your favorite activities while immersing yourself in the natural beauty of the reservoir and its surrounding landscapes.
Perch, sunfish and saugeye also make good showings, and all make for a good fish fry. Pontoon boats and other boats are available by the hour, or by the day. There are plenty of camping areas and RV hookups at, or nearby, the lake. Lodging, restaurants, convenience stores and bait shops are all nearby. Quality bass fishing makes Pueblo a favorite for fishing tournaments.
Primary fish species residing in Lake Pueblo
Click images for fishing tips and details about each species.
Lake Pueblo Amenities
Marina: YES - 2
Boat Rental: YES
Boat Launch Ramp: YES
Campgrounds: YES
RV Hookups: YES
Lodging: NEARBY
Convenience Store: NEARBY
Bait & Tackle: NEARBY
Restaurant: NEARBY
Today's Weather & Forecast
Fishing Boat Rentals
Laketime Rentals
Rentals: Kayaks
719 494-6884
Southshore Marina
Rentals: Pontoon boats
719 564-1043
Marinas
Northshore Marina
N Marina Rd
Pueblo West, CO 81007
719 547-3880
Southshore Marina
1 S Marina Rd
Pueblo, CO 81005
719 564-1043
Public Boat Launch Ramps & Landings
Arkansas Point Boat Ramp
Located in the southeast corner of the lake, this is a multi-lane concrete ramp with plenty of paved parking.
Northshore Marina Launch Ramp
Located on the north side of the lake off North Marina Road, this is a five-lane, concrete ramp with excellent paved parking.
Click here for a Colorado fishing license.
Closest Campgrounds & RV Parks
Lake Pueblo State Park - 970 522-3657
Prairie Ridge Campground - 719-561-9320
Arkansas Point Campground - 719-561-9320
Juniper Breaks Campground - 719-561-9320
Northern Plains Campground - 719-561-9320
Lake Pueblo CO Map - Fishing & Camping Areas
Lake Video
Contact Information
Lake Pueblo
Lake Pueblo State Park
640 Pueblo Reservoir Rd
Pueblo, CO 81005
970 522-3657
Fishing lakes in each state.
Lake Pueblo in CO
COLORADO


Fishing for walleye, bass, wiper, catfish and crappie in central CO.
Lake Pueblo, in Colorado.