Guide To Fishing At Morrow Point Reservoir
What to fish for...
Fishing for rainbow trout, cutthroat trout, brook trout, brown trout, lake trout and kokanee salmon at Morrow Point Reservoir in Colorado.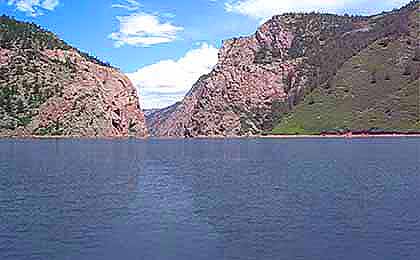 At twelve miles long there are miles and miles of scenic shoreline on Morrow Point Reservoir. The trout and salmon fishing on Morrow Point Reservoir can be spectacular and the weather can be unpredictable - so come prepared. Carry in, non motorized boats are the only boats you can launch on this 800 acre lake.
Nestled within the stunning Black Canyon of the Gunnison National Park in Colorado, Morrow Point Reservoir is a hidden gem for fishing enthusiasts seeking a serene and picturesque angling experience. The reservoir, formed by the Morrow Point Dam, offers a unique fishing environment with its deep, clear waters. Anglers can expect to catch a variety of fish species in Morrow Point Reservoir, including rainbow trout, brown trout, kokanee salmon, and smallmouth bass. Whether you prefer casting from the shoreline or fishing from a boat, Morrow Point Reservoir provides a tranquil setting to reel in your catch and enjoy the breathtaking scenery.
Boating on Morrow Point Reservoir is a captivating experience, allowing visitors to navigate the deep, narrow canyon and marvel at the towering cliffs that surround the reservoir. Non-motorized watercraft such as canoes and kayaks are popular choices for exploring the pristine waters. Boaters can immerse themselves in the peaceful ambiance, paddle along the shoreline, and even discover hidden coves and secluded fishing spots. The remote nature of Morrow Point Reservoir ensures a quiet and serene boating experience amidst the untouched beauty of the Black Canyon.
Camping near Morrow Point Reservoir is an opportunity to embrace the tranquility of the surrounding wilderness. While there are no developed campgrounds directly at the reservoir, nearby campsites in Black Canyon of the Gunnison National Park offer a chance to disconnect from the outside world and immerse yourself in nature. The park provides rustic camping facilities with basic amenities, allowing you to wake up to the sound of the rushing river and enjoy the serenity of the canyon walls. Camping in this pristine setting offers a unique opportunity to witness the starry night sky and embark on scenic hikes within the national park.
Morrow Point Reservoir, with its unique fishing environment, captivating boating experiences, and rustic camping options, is a true haven for outdoor enthusiasts seeking solitude and natural beauty. Located within the awe-inspiring Black Canyon of the Gunnison National Park, this hidden gem provides a peaceful retreat where visitors can indulge in fishing, boating, and camping amidst breathtaking scenery and the tranquil ambiance of the reservoir.

Fish Species in Morrow Point Reservoir, CO
Morrow Point Reservoir Amenities
Marina: YES
Boat Rentals: NO
Boat Launch Ramp: NO
Campgrounds: YES
RV Hookups: NO
Lodging: NO
Concessions: NO
Bait & Tackle: NO
Restaurant: NO
Today's Weather & Forecast
Click here for a Colorado fishing license.
Closest Campgrounds & RV Parks
Black Canyon RV Park & Campground - 970 249-1147
Blue Mesa Point Campground - 970 641-3086
East Portal Campground - 970 641-2337
Morrow Point Reservoir CO Map - Fishing & Camping Areas
Lake Video
Contact Information
Morrow Point Reservoir
Boat Tours
102 Elk Creek
Gunnison, CO 81230
970 641-2337 x205
Fishing lakes in each state.
Morrow Point Reservoir in CO.
COLORADO


Trout and salmon fishing in southwest CO.
Morrow Point Reservoir fishing lake in Colorado.