Fishing At Twin Lakes Reservoir
AKA: Twin Lakes Reservoirs
What to fish for...
Guide to fishing for rainbow trout, brown trout, cutthroat trout and lake trout at Twin Lakes Reservoir in Colorado.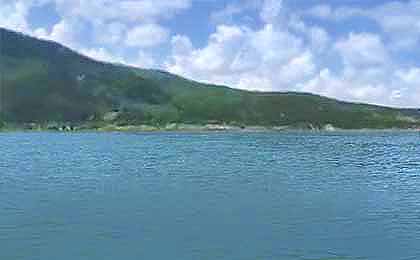 Three campgrounds and two boat launch ramps invite the public to come have fun at Twin Lakes Reservoir in central CO. The two lakes combine to create a 2,700-acre fishery for avid trout anglers. Trophy size lake trout reside here along with quality populations of rainbow, brown and cutthroat trout.
Twin Lakes Reservoir, nestled in the heart of the Rocky Mountains near Leadville, Colorado, is a haven for fishing enthusiasts seeking a memorable angling experience. The reservoir is renowned for its excellent fishing opportunities and the variety of fish species that inhabit its waters. Anglers can expect to catch species such as rainbow trout, brown trout, lake trout, and kokanee salmon. With its pristine waters and diverse fish population, Twin Lakes Reservoir offers a perfect setting for anglers of all skill levels to reel in their prized catches.
Boating on Twin Lakes Reservoir is a popular activity, providing visitors with the opportunity to explore the vast expanse of the lake while enjoying the stunning mountain views. The reservoir permits both motorized and non-motorized watercraft, making it suitable for various boating experiences. Whether you have a powerboat, kayak, canoe, or paddleboard, Twin Lakes Reservoir offers ample space to cruise, fish, and soak in the natural beauty of the surroundings. Boat ramps are available, ensuring convenient access to the water for boaters of all kinds.
Camping near Twin Lakes Reservoir offers the chance to extend your outdoor adventure and immerse yourself in the breathtaking mountain scenery. The reservoir is surrounded by several campgrounds that provide a range of camping options, from tent sites to RV sites with hookups. Campers can enjoy the peacefulness of the natural surroundings, stargaze at night, and take advantage of amenities such as picnic areas, fire pits, and restroom facilities. Camping near Twin Lakes Reservoir allows visitors to fully embrace the beauty of the Colorado outdoors and make the most of their time in this picturesque setting.
Twin Lakes Reservoir, with its exceptional fishing opportunities, scenic boating experiences, and peaceful camping options, offers a complete outdoor retreat for nature enthusiasts. Whether you're an avid angler, a boating enthusiast, or simply seeking a tranquil camping getaway, Twin Lakes Reservoir in Colorado provides the perfect setting to indulge in your favorite outdoor activities while immersing yourself in the beauty of the reservoir and its surrounding mountainous terrain.
There are over a dozen miles of shoreline, most of which is easily accessible for fishing from the bank. Kayaks, canoes, pontoons, pleasure boats and a wide variety of fishing boats are popular here. Rental boats are available at the lake. Lodging, restaurants, fishing tackle, lake boat tours and convenience stores are all located nearby the lake. Ice fishing, including ice fishing derbies, are available in winter once the ice is safe.
Primary fish species residing in Twin Lakes Reservoir
Click images for fishing tips and details about each species.
Twin Lakes Reservoir Amenities
Marina: NO
Boat Rental: YES
Boat Launch Ramp: YES
Campgrounds: YES
RV Hookups: YES
Lodging: YES
Convenience Store: YES
Bait & Tackle: YES
Restaurant: YES
Today's Weather & Forecast
Fishing Boat Rentals
Twin Lakes Canoe & Kayak Adventures
Rentals: Canoes and kayaks
719 251-9961
Public Boat Launch Ramps & Landings
Dexter Point Campground Boat Ramp
This is a two-lane, concrete ramp with gravel parking. It is located in the northeast corner of the lake.
Red Rooster Boating Site
Located in the northwest corner of the lakes, this is a single-lane gravel ramp with gravel parking.
Click here for a Colorado fishing license.
Closest Campgrounds & RV Parks
Dexter Campground - 719 553-1400
White Star Campground - 719 486-0749
Lakeview Campground - 719 486-0749
Twin Peaks Campground - 719 553-1400
Twin Lakes Reservoir CO Map - Fishing & Camping Areas
Lake Video
Contact Information
Twin Lakes Reservoir
Dexter Campground
Leadville, CO 80461
719 553-1400
Fishing lakes in each state.
Twin Lakes Reservoir in CO
COLORADO


Fishing for trophy trout in central CO.
Twin Lakes Reservoir, in Colorado.