Colorado Fishing Article
Catfish Fishing in Colorado
Catfishing in Colorado can be done day or night. You have to watch the weather and where most people are fishing. These photos are daytime catfishing trip in Colorado and we do catch a lot at night from April to Oct. The baits vary from dip bait to cut baits, fish, crawfish, and blood baits are the best choice.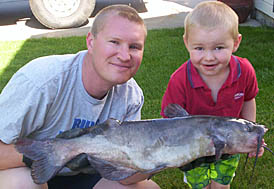 Always look for the deepest part during the day, wait 30 minutes maximum for hits then re-bait and switch spots but not too far off from your prior cast. The scent will linger, bringing them in and they will find the bait not far away.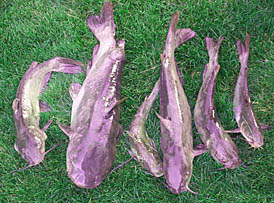 Remember, cooler waters make them sluggish. So find them in packs and put the bait in front of their faces. If you want more information I can be reached at strider_424@yahoo.com. Hope this helps some. Enjoy the pictures.
Fishing photos and articles, by state.
Contribute CO fishing photos and articles
If you have information, articles or photos relating to fishing in Colorado, and would like to see them published here, please submit them for consideration.
Article about fishing for catfish in Colorado.