North Carolina Crappie Fishing
All about fishing for black and white crappie.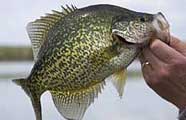 Crappie are actually a member of the sunfish family and can be found in many North Carolina lakes. Crappie are known by many different local names. Paper mouth, goggleye, bridge perch, slabs and speckled perch, are just a few.
Crappie Fishing Basics
Crappie Waters In NC
It is not an overstatement to say that crappie are everywhere in North Carolina. To begin with, most major lakes in NC have healthy schools of crappie. Those lakes include Apalachia Lake, Badin Lake, Belews Lake, Blewett Falls Lake, Chatuge Lake, Falls Lake, Fontana Lake, Harris Lake, High Rock Lake, Hiwassee Lake, Hyco Lake, Jordan Lake, Kerr Lake, King Mountain Reservoir, Lake Gaston, Lake Glenville, Lake Hickory, Lake James, Lake Mattamuskeet, Lake Nantahala, Lake Norman, Lake Rhodhiss, Lake Tillery, Lake Waccamaw, Lake Wylie, Mayo Reservoir, Mountain Island Lake, Moss Lake, Phelps Lake, Roanoke Rapids Lake, Santeetlah Lake, Shearon Harris Reservoir and W Kerr Scott Reservoir. In addition crappie can be found in most ponds, rivers and smaller lakes.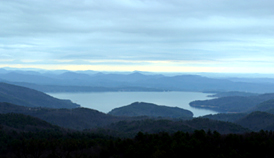 NC state record crappies
North Carolina state record black crappie was caught out of Asheboro City Lake #4. The state record white crappie was caught from a private lake in Wake County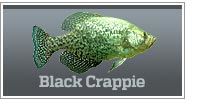 World record: 6 lbs 0 oz
State Record: 4 lbs 15 oz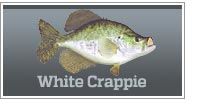 World record: 5 lbs 3 oz
State Record: 3 lbs 15 oz
By clicking on the images and links above, you will be taken to a page offering more information about the selected species.
Check out crappie information, by state.
The life cycle of crappie.
The more you know about crappie, the easier it will be to locate and catch them in North Carolina lakes and rivers. Visit the crappie fishing page for details about their seasonal migrations.
NORTH CAROLINA