New Hampshire Crappie Fishing
All about fishing for black and white crappie in NH.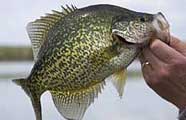 Crappie are actually a member of the sunfish family and can be found in many New Hampshire lakes. Crappie are known by many different local names. Paper mouth, goggleye, bridge perch, slabs and speckled perch, are just a few.
Crappie Fishing Waters In New Hampshire
Crappie are a bit scarce in New Hampshire. Comerford Lake, Great East Lake, Lake Wentworth, Mascoma Lake, Massabesic Lake, Moore Reservoir, Ossipee Lake, Paugus Bay and Winnisquam Lake are the major lakes in NH with crappie. Other smaller lakes, ponds and rivers may also contain schools of crappie.
The New Hampshire state record black crappie was taken out of Bellamy Reservoir.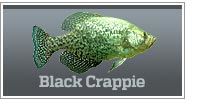 World record: 6 lbs 0 oz
NH State Record: 2 lbs 13 oz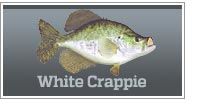 World record: 5 lbs 3 oz
NH State Record: Unknown
By clicking on the images and links above, you will be taken to a page offering more information about the selected species.
Check out crappie fishing information, by state.
The life cycle of crappie.
The more you know about crappie, the easier it will be to locate and catch them in New Hampshire lakes and rivers. Visit the crappie fishing page for details about their seasonal migrations.
Best crappie fishing lakes in New Hampshire!