Crappie Fishing In Wisconsin
Guide to fishing for white and black crappie.
Wisconsin is a fantastic destination for crappie fishing, with both black crappie and white crappie present in its lakes and rivers. These popular game fish are known for their tasty white flesh and provide anglers with enjoyable and rewarding fishing experiences.
Black crappie and white crappie share many similarities in terms of habitat and behavior. They are often found in schools near submerged structures such as fallen trees, brush piles, and weed beds. Crappie tend to be more active during the early morning and late evening hours, making those times ideal for targeting them.
Anglers can use a variety of techniques to catch crappie, including casting or vertical jigging with small jigs or live bait such as minnows. Light tackle and sensitive rods are recommended to detect the subtle bites that crappie are known for. It's important to present the bait or lure at the appropriate depth, as crappie tend to suspend at different depths depending on the time of year and water conditions.
The spring and fall seasons are generally considered the best times for crappie fishing in Wisconsin. During the spring, crappie move into shallower water to spawn, creating excellent opportunities for anglers. In the fall, they congregate near structures and feed actively in preparation for the winter months.
Wisconsin's lakes and reservoirs offer abundant crappie populations, providing ample opportunities for anglers of all skill levels. It's important to check local fishing regulations and size limits, as well as any specific regulations for the waters you plan to fish. Practicing catch-and-release or selective harvest helps maintain healthy crappie populations and ensures the sustainability of this popular fishery for future generations.
Crappie Fishing Waters In WI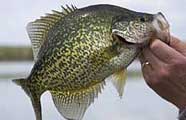 Decent crappie can be found in most of the major lakes in the state including Beaver Dam Lake, Big Eau Pleine Reservoir, Big Green Lake, Castle Rock Lake, Chetac Lake, Geneva Lake, Gile Flowage Lake, Holcombe Flowage, Lac Vieux Desert, Lake Butte des Morts, Lake Chippewa, Lake du Bay, Lake Kegonsa, Lake Michigan, Lake Monona, Lake Mendota, Lake Onalaska, Lake Pepin, Lake Poygan, Lake Puckaway, Lake Superior, Lake Winnebago, Lake Wisconsin, Lake Wissota, Long Lake, Namekagon Lake, Pelican Lake, Petenwell Lake, Rainbow Flowage, Shawano Lake, Shell Lake, Tomahawk Lake, Turtle Flambeau Flowage and Willow Reservoir. Look also for crappie in small lakes, ponds and quiet rivers throughout Wisconsin. Ice fishing for crappie can be very rewarding and provides a great way to introduce kids to fishing.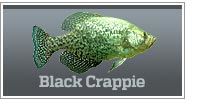 World record: 6 lbs 0 oz
State Record: 4 lbs 8 oz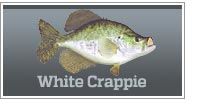 World record: 5 lbs 3 oz
State Record: 3 lbs 13.1 oz
Click the images and links above for species details.
Top 5 Crappie Fishing Lures For Wisconsin
Crappie jigs work well in water from 2' to 40' deep, and are the most popular artificial lure for crappie ever. When crappie are shallow, spinners, small crankbaits and underspins are the often very productive. As they move deeper, spoons are among the top producers if the crappie are active. Review details for the best crappie rig options. Understanding the seasonal movements of crappie can enhance your chances of using these lures in the ideal locations.
Wisconsin Crappie Records
The state record black crappie was caught out of Gile Flowage.
The state record white crappie came from Cranberry Marsh.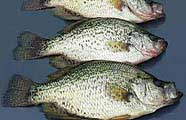 Small jigs, live minnows, small spinners and other small lures will catch crappie. Use light line (six pound or less) and work the baits slowly - especially in cold water.
Crappie are actually a member of the sunfish family and can be found in many Wisconsin lakes. Crappie are known by many different local names. Paper mouth, goggleye, bridge perch, slabs and speckled perch, are just a few.
Crappie Fishing Basics Video
Check out crappie information, by state.
The life cycle of crappie.
The more you know about crappie, the easier it will be to locate and catch them in Wisconsin lakes and rivers. Visit the crappie fishing page for details about their seasonal migrations.
WISCONSIN