Ohio Crappie Fishing
All about fishing for white and black crappie in OH.
Crappie Fishing Waters In Ohio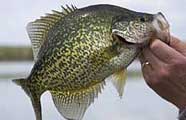 Private ponds in Ohio are notorious for growing big crappie. Crappie reside in creeks, rivers and small lakes as well. Yet, you are likely to catch bigger stringers in some of the larger lakes like Alum Creek Lake, Atwood Lake, Berlin Lake, Buck Creek State Park Lake, Bresler Reservoir, Buckeye Lake, Burr Oak Lake, Caesar Creek State Park Lake, Charles Mill Lake, Chippawa Lake, Clear Fork Reservoir, Clendening Reservoir, Cowan Lake, Delaware Lake, East Fork Lake, Ferguson Reservoir, Grand Lake St Marys, Grant Lake, Hoover Reservoir, Indian Lake, Jackson Lake, Knox Lake, La Due Lake, Lake Erie, Lake Loramie, Lake Milton, Leesville Lake, Madison Lake, Mogadore Reservoir, Mosquito Lake, Nettle Lake, Piedmont Reservoir, Pleasant Hill Reservoir, Portage Lakes, Pymatuning Lake, Rocky Fork State Park Lake, Salt Fork Lake, Senecaville Lake, Spenser Lake, Tappan Reservoir, Veterans Memorial Lake, Veto Lake, West Branch Lake and Willard Reservoir.
Crappie are actually a member of the sunfish family and can be found in many Ohio lakes. Crappie are known by many different local names. Paper mouth, goggleye, bridge perch, slabs and speckled perch, are just a few.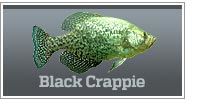 World record: 6 lbs 0 oz
OH State Record: 4 lbs 8 oz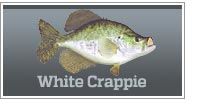 World record: 5 lbs 3 oz
OH State Record: 3 lbs 14 oz
By clicking on the images and links above, you will be taken to a page offering more information about the selected species.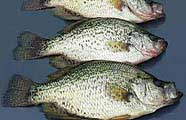 Separate private ponds produced both the Ohio state record black crappie and the OH state record white crappie.
Check out crappie fishing information, by state.
The life cycle of crappie.
The more you know about crappie, the easier it will be to locate and catch them in Ohio lakes and rivers. Visit the crappie fishing page for details about their seasonal migrations.
Best crappie fishing lakes in Ohio!