Guide To Crappie Fishing In Nebraska
All about fishing for white and black crappie.
Crappie Waters In NE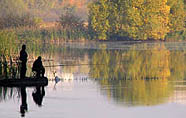 Crappie can be located in a high percentage of the fishing waters throughout NE. In addition to private ponds and some rivers and creeks, crappie can be found in most of the major Nebraska lakes including Bluestem Lake, Box Butte Reservoir, Branched Oak Lake, Conestoga Lake, Davis Creek Reservoir, Elwood Reservoir, Enders Reservoir, Glenn Cunningham Lake, Harlan County Reservoir, Harry Strunk Lake, Hugh Butler Lake, Jeffrey Lake, Johnson Lake, Kimball Reservoir, Lake Maloney, Lake Wanahoo, Lewis And Clark Lake, Medicine Creek Reservoir, Merritt Reservoir, Oliver Reservoir, Pawnee Lake, Red Willow Reservoir, Sherman Reservoir, Sutherland Reservoir, Swanson Reservoir, Wagon Train Lake, Wehrspann Lake, Whitney Lake and Willow Creek Lake. Crappie are a favorite species of many ice fishing enthusiasts. When you locate them you can catch them in bunches.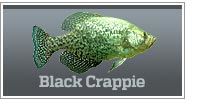 World record: 6 lbs 0 oz
State Record: 4 lbs 8 oz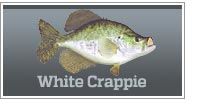 World record: 5 lbs 3 oz
State Record: 4 lbs 1 oz
Click the images and links above for species details.
Top 5 Crappie Fishing Lures For Nebraska
Crappie jigs work well in water from 2' to 40' deep, and are the most popular artificial lure for crappie ever. When crappie are shallow, spinners, small crankbaits and underspins are the often very productive. As they move deeper, spoons are among the top producers if the crappie are active. Understanding the seasonal movements of crappie can enhance your chances of using these lures in the ideal locations.
Nebraska Crappie Records
The state record black crappie was taken out of a farm pond.
The state record white crappie was caught from Red Willow Reservoir.
Crappie Fishing Basics Video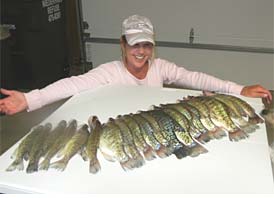 Crappie are actually a member of the sunfish family and can be found in many Nebraska lakes. Crappie are known by many different local names. Paper mouth, goggleye, bridge perch, slabs and speckled perch, are just a few.
Check out crappie information, by state.
The life cycle of crappie.
The more you know about crappie, the easier it will be to locate and catch them in Nebraska lakes and rivers. Visit the crappie fishing page for details about their seasonal migrations.
NEBRASKA