Fishing At Falls Lake
AKA: Falls of the Neuse Lake, Falls Reservoir
What to fish for...
Guide to fishing for largemouth bass, channel catfish, flathead catfish, blue catfish, black crappie, white crappie, bluegill, white bass, white perch, yellow perch, striped bass and chain pickerel at Falls Lake in North Carolina.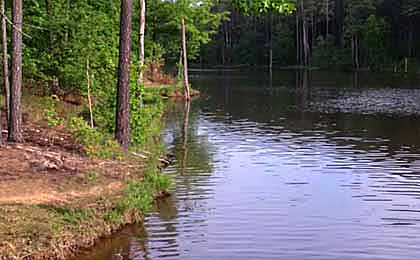 Largemouth bass tend to garner a great deal of the fishing attention here at Falls Lake, yet this healthy fishery has so much more to offer. This sprawling 12,400-acre lake in the northeast part of the state, on the outskirts of Durham, NC offers a wide variety of fish species. Catfish, crappie, white bass, stripers, perch and chain pickerel all provide anglers with an opportunity for a fun day of fishing. The water maintains a nice stain most of the time and there are sections of trees and stumps in many of the coves. Spinnerbaits, square bill crankbaits and jigs are popular when fishing shallow. Creek channels, ledges, humps and other structure often hold concentrations of fish, especially in summer and winter. Over 300 campsites, some with RV hookups are conveniently located around the lake. Public boat ramps, the marina and boat rentals are available to enhance your stay at Falls Reservoir.
Falls Lake, located in North Carolina, is a renowned destination for fishing enthusiasts seeking a diverse range of fish species and a picturesque natural setting. This 12,000-acre reservoir offers an abundance of fishing opportunities and is known for its excellent bass fishing.
Largemouth bass is one of the most sought-after species in Falls Lake. Anglers flock to the lake in search of trophy-sized bass, as the lake has a healthy population of these hard-fighting fish. The lake's varied structure, including submerged trees, rock formations, and vegetation, provides ideal habitats for bass. Anglers can employ various techniques such as flipping jigs, crankbaits, and plastic worms to entice the bass into biting. Falls Lake also offers opportunities to catch other popular fish species, including crappie, catfish, and sunfish.
Boating is a popular activity on Falls Lake, and anglers can take advantage of the lake's multiple boat ramps and marinas. Whether you prefer a motorized boat, kayak, or canoe, the lake provides ample space for boating and exploring its numerous coves and channels. Boaters can cruise along the tranquil waters, searching for their favorite fishing spots or simply enjoying the scenic beauty of the surrounding forests and rolling hills.
Camping facilities are available near Falls Lake, offering visitors the opportunity to extend their stay and immerse themselves in nature. Whether you prefer tent camping or RV camping, there are options to suit various preferences and needs. Camping near Falls Lake allows anglers to enjoy early morning or late evening fishing sessions, as well as providing a peaceful retreat after a day on the water. The serene atmosphere and star-filled skies create a perfect backdrop for a memorable camping experience.
It is worth noting that Falls Lake is also a popular spot for recreational activities such as swimming, picnicking, and hiking. The lake's shoreline is dotted with several picnic areas and hiking trails, allowing visitors to explore the natural beauty of the surrounding landscape. Additionally, the lake hosts various fishing tournaments and events throughout the year, attracting anglers from near and far.
Falls Lake in North Carolina offers a diverse fishing experience with its plentiful fish species, including bass, crappie, catfish, and sunfish. The lake's expansive waters and scenic surroundings provide ample opportunities for boating, camping, and outdoor recreation. Whether you're an avid angler or simply seeking a peaceful escape into nature, Falls Lake is a destination that promises an unforgettable fishing adventure in the heart of North Carolina.

Primary fish species residing in Falls Lake
Click images for fishing tips and details about each species.
Falls Lake Amenities
Marina: YES
Boat Rental: YES
Boat Launch Ramp: YES
Campgrounds: YES
RV Hookups: YES
Lodging: NEARBY
Convenience Store: YES
Bait & Tackle: YES
Restaurant: NEARBY
Today's Weather & Forecast
Fishing Boat Rentals
Motor-Boatin
Rentals: Fishing boats, pontoon boats and bow riders
919 800-9716
Rollingview Marina
Rentals: Fishing kayaks and canoes
919 596-2194
Marinas
Rollingview Marina
3940 Falls Lake Rd
Durham, NC 27703
919 596-2194
Public Boat Launch Ramps & Landings
Barton's Creek Boat Ramp
Located in the southwest sector of the lake, off the intersection of Durham Road and Six Forks Road, this is an excellent four-lane ramp with docks and paved parking for 100 vehicles.
Hickory Hill Boat Ramp
This is a multi-lane boat ramp with a dock. It has plenty of paved parking and is conveniently located near the intersection of I-85 and Redwood Roar on the northwest part of the lake.
Beaver Dam Boat Launch
Locate in Beaverdam Lake State Recreation Area, off Highway 50, this is a nice facility with two concrete lanes, a dock and paved parking.
Highway 50 Boat Launch State Recreation Area
A six-lane boat ramp, with docks and tons of paved parking make this a convenient place to launch.
Ledge Rock Boat Ramp
Four lanes of concrete rams, docks and lots of paved parking enhance this ideally located mid-lake in the northeast sector of the lake, on Olive Grove Church Road.
Click here for a North Carolina Fishing License.
Campgrounds & RV Parks Nearby
Holly Point Campground - 919 676-1027
Falls Lake State Recreation Area Campground - 919 676-1027
BW Wells Group Campsites - 919 676-1027
Rolling View Campground Loop C - 919 676-1027
Falls Lake NC Map - Fishing & Camping Areas
Lake Video
Contact Information
Falls Lake
Falls Lake State Recreation Area
13304 Creedmoor Rd
Wake Forest, NC 27587
919 676-1027
Fishing lakes in each state.
Falls Lake in North Carolina.
NORTH CAROLINA


Catfish, bass, white bass and stripers fishing in northeast NC.
Fishing at Falls Lake, in North Carolina.