Fishing At Lake Glenville
AKA: Thorpe Lake, Thorpe Reservoir, Glenville Reservoir
What to fish for...
Guide to fishing for largemouth bass, smallmouth bass, channel catfish, black crappie, walleye, rainbow trout, bluegill and bream at Lake Glenville in North Carolina.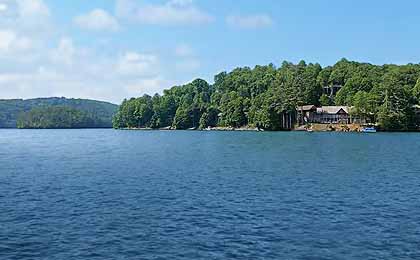 Healthy populations of largemouth and smallmouth bass which feed on schools of blueback herring and bream, make Lake Glenville a bass fishing paradise. This is a 1,470-acre lake in the southwest part of the state, located just miles southwest of Creswell, NC. In addition to great bass fishing, these waters provide opportunities for crappie, catfish, trout, sunfish and walleye anglers to enjoy some excellent fishing. Local marinas and boat rental options can assist with watercraft needs. Public boat launch ramps provide easy access to the lake. Kayak and canoe fishing is popular, as is fishing from shore at a variety of locations around the lake. Pockets, points, coves and channels provide a wide variety for the many fish species in the lake to hold and feed.
The purpose of this page is to deliver an overview of this lake, the fishing options, and area amenities. Our goal is to provide info to first time visitors, as well as beginner and novice anglers. We gathered details from personal experience, numerous trusted websites, and videos of fishing activity on the lake. These websites include the North Carolina Wildlife Resources Commission, marinas at the lake, campgrounds, boat rental agencies and others. By consolidating this information to one page it allows visitors to see the entire picture, all in one place.
Lake Video
Lake Glenville, nestled in the scenic mountains of North Carolina, is a hidden gem for fishing enthusiasts seeking a serene and picturesque fishing experience. This stunning reservoir, also known as Thorpe Reservoir, offers anglers a variety of fish species and breathtaking natural beauty.
One of the primary fish species that attract anglers to Lake Glenville is the smallmouth bass. The clear waters and rocky shorelines provide excellent habitats for smallmouth bass, making it an exciting target for anglers. Whether you prefer casting with artificial lures or using live bait, Lake Glenville offers ample opportunities to hook into these feisty fighters. Catching a smallmouth bass against the backdrop of the surrounding mountains creates a truly memorable fishing experience.
Lake Glenville is also home to other popular fish species, including largemouth bass, trout, walleye, and crappie. Anglers can explore different fishing techniques and baits to target their desired species. Trout fishing is particularly popular, with rainbow trout and brown trout being stocked in the lake. The cool, clear waters of Lake Glenville provide an ideal environment for trout fishing.
Lake Glenville in North Carolina offers anglers a remarkable fishing experience amidst breathtaking mountain scenery. With its diverse fish species, including smallmouth bass, trout, walleye, and more, the lake provides opportunities for both novice and experienced anglers. Lake Glenville promises unforgettable fishing memories in a truly picturesque setting.

Primary fish species residing in Lake Glenville
Click images for fishing tips and details about each species.
Lake Glenville Amenities
Marina: YES
Boat Rental: YES
Boat Launch Ramp: YES
Campgrounds: YES
RV Hookups: YES
Lodging: YES
Convenience Store: NEARBY
Bait & Tackle: NEARBY
Restaurant: YES
Today's Weather & Forecast
Boating is a popular activity on Lake Glenville, and the lake offers boat ramps and marinas for easy access. Whether you prefer cruising in a motorized boat, kayaking, or canoeing, the lake provides ample space for boating and exploring its scenic coves and inlets. Boaters can enjoy the peacefulness of the lake, take in the stunning mountain views, and find their favorite fishing spots.
Fishing Boat Rentals
Lakeshore Marina
Rentals: Kayaks, canoes and pontoon boats
828 743-9998
Signal Ridge Marina
Rentals: Canoes and pontoons
828 743-2143
Marinas
Cedar Point Landings
4312 NC-107
Glenville, NC 28736
Lakeshore Marina
2956 Pine Creek Rd
Cullowhee, NC 28723
828 743-9998
Signal Ridge Marina
4769 NC-107
Glenville, NC 28736
828 743-2143
Public Boat Launch Ramps & Landings
Powerhouse Boat Launch
This is a small, concrete boat launch ramp with a dock and limited gravel parking. It is located in the very northeast corner of the lake.
Click here for a North Carolina Fishing License.
Camping facilities are available near Lake Glenville, allowing visitors to immerse themselves in the natural beauty of the area. Whether you prefer tent camping or RV camping, there are options to suit different preferences and comfort levels. Camping near Lake Glenville allows anglers to extend their fishing adventure and fully enjoy the tranquility of the outdoors.
Campgrounds & RV Parks Nearby
Ralph J Andrews Recreation Park Campground - 828 743-3923
Lake Glenville NC Map - Fishing & Camping Areas
Contact Information
Lake Glenville
Lakeshore Marina
4623 NC-107
Glenville, NC 28736
828 743-9998
Fishing lakes in each state.
Lake Glenville in North Carolina.
NORTH CAROLINA


Smallmouth bass fishing in southwest NC.
Fishing at Lake Glenville, in North Carolina.