Guide To Fishing At High Rock Lake
AKA: High Rock Reservoir
What to fish for...
Fishing for largemouth bass, channel catfish, flathead catfish, blue catfish, black crappie, white crappie, bluegill, white bass and striped bass at High Rock Lake in North Carolina.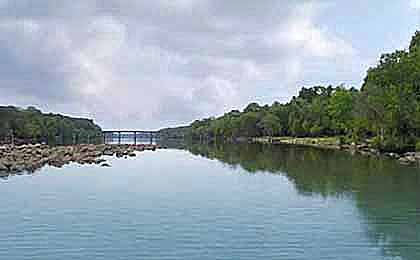 With a healthy population of bass, crappie, catfish and stripers, High Rock Lake is a very fertile fishery. This productive, 15,180-acre lake in the north-central part of the state has 365 miles of shoreline. Whether you choose to fish from shore, or navigate these waters in a boat, canoe or kayak, you will have in front of you some of the best fishing water in the area. Marinas on the lake provide boaters goods and services to make your day on the lake a pleasure. Including, if you so desire, boat rentals. Fishing tackle, bait, groceries, beverages and ice are also available. The lake is lined with boat docks which provide cover for shallow bass and other species. There are plenty of creek channels, ledges, humps and drop-offs to fish when the fish move off the bank. The water is stained year round, so be prepared to fish spinnerbaits and flashy lures.
High Rock Lake, located in North Carolina, is a popular destination for anglers and outdoor enthusiasts. As the second-largest lake in the state, it offers excellent fishing opportunities and is known for its diverse fish population.
One of the most sought-after species in High Rock Lake is the largemouth bass. Anglers flock to the lake to test their skills in catching these prized game fish. The lake's structure, including submerged trees, brush piles, and rocky points, provides ideal habitats for bass. Anglers can employ a variety of techniques such as topwater lures, crankbaits, and soft plastics to entice bass to strike. High Rock Lake is known for producing both quantity and quality bass, making it a popular destination for bass fishing enthusiasts.
In addition to largemouth bass, High Rock Lake is home to other popular sportfish. Crappie, both black and white, can be found in abundance, especially around submerged structures and brush piles. Anglers targeting crappie often use jigs or live minnows to entice these tasty fish. Catfish, including channel catfish and blue catfish, are also abundant in the lake and provide exciting angling opportunities. Fishing for catfish can be productive using cut bait, stink bait, or live bait.
High Rock Lake offers a variety of boating options for visitors. Whether you prefer motorized boats, kayaks, or canoes, the lake provides ample space for boating and exploration. The lake features multiple boat ramps and marinas for convenient access. Boaters can enjoy cruising the scenic waters, fishing in various locations, or simply relaxing and taking in the beautiful surroundings.
Camping facilities are available near High Rock Lake, allowing visitors to extend their fishing trip and immerse themselves in the outdoor experience. There are campgrounds and RV parks that offer amenities for overnight stays, including lakeside camping spots. Camping near High Rock Lake provides anglers and nature enthusiasts with the opportunity to fully enjoy the tranquility of the area and make the most of their fishing adventure.
High Rock Lake in North Carolina offers a fantastic fishing experience with its diverse fish species and scenic surroundings. Whether you're targeting bass, crappie, or catfish, the lake provides ample opportunities to test your angling skills. Boating on the lake's expansive waters and camping in the nearby facilities further enhance the overall outdoor experience. High Rock Lake is a must-visit destination for anglers and outdoor enthusiasts looking for a memorable fishing trip in a beautiful natural setting.

Primary fish species residing in High Rock Lake
Click images for fishing tips and details about each species.
High Rock Lake Amenities
Marina: YES
Boat Rental: YES
Boat Launch Ramp: YES
Campgrounds: YES
RV Hookups: YES
Lodging: YES
Convenience Store: YES
Bait & Tackle: YES
Restaurant: YES
Today's Weather & Forecast
Fishing Boat Rentals
High Rock Boat Rental
Rentals: Pontoon boats
336 860-4468
High Rock Marina and Campground
Rentals: Fishing boats and pontoons
336 798-1196
Tamarac Marina
Rentals: Pontoon boats
704 636-1918
Marinas
High Rock Boat Dock Marina
339 N Shore Dr
Lexington, NC 27292
336 357-5906
High Rock Marina and Campground
1013 Wafford Cir
Lexington, NC 27292
336 798-1196
Tamarac Marina
9120 Bringle Ferry Rd
Salisbury, NC 28146
704 636-1918
Public Boat Launch Ramps & Landings
North Carolina Wildlife Boat Access Ramp
Located at the northeast end of Bringle Ferry Road Bridge, this two-lane ramp has docks and paved parking.
Southmount Abbotts Creek Boat Access
Located at the end of the Wildlife Recreation Area Access Road, this multi-lane concrete ramp offers a dock and ample paved parking.
York Hill Yadkin River Access
This is a small, primitive launch area with limited parking. It is located in the upper north northeast corner of the lake.
Click here for a North Carolina Fishing License.
Campgrounds & RV Parks Nearby
High Rock Marina and Campground - 336 798-1196
Cross Winds Family Campground - 336 853-4567
High Rock Lake NC Map - Fishing & Camping Areas
Lake Video
Contact Information
High Rock Lake
High Rock Lake Marina & Campground
1013 Wafford Circle
Lexington, NC 27292
336 798-1196
Fishing lakes in each state.
High Rock Lake in North Carolina.
NORTH CAROLINA


Bass, crappie, catfish and stripers fishing in north-central NC.
Fishing at High Rock Lake, in North Carolina.