Fishing At Mountain Island Lake
AKA: Mountain Island Reservoir
What to fish for...
Guide to fishing for largemouth bass, channel catfish, blue catfish, black crappie, white crappie, white perch and striped bass at Mountain Island Lake in North Carolina.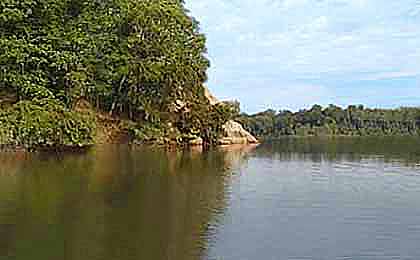 With easy access to Charlotte, NC, Mountain Island Lake makes an ideal location for a quick fishing trip. This is a 3,200-acre reservoir in the southwest part of the state which offers respectable bass, catfish, crappie and perch fishing. Lots of finger channels and bays around the lake are lined with boat docks - many of which have brush piles as crappie attractors. Bass tend to hang around these food sources. Learning which docks have this cover may be the key to a successful day of fishing for bass or crappie.
The purpose of this page is to deliver an overview of this lake, the fishing options, and area amenities. Our goal is to provide info to first time visitors, as well as beginner and novice anglers. We gathered details from personal experience, numerous trusted websites, and videos of fishing activity on the lake. These websites include the North Carolina Wildlife Resources Commission, marinas at the lake, campgrounds, boat rental agencies and others. By consolidating this information to one page it allows visitors to see the entire picture, all in one place.
Lake Video
Mountain Island Lake, located in North Carolina, is a stunning reservoir known for its fantastic fishing opportunities. Situated amidst the scenic landscapes and surrounded by lush forests, this lake provides a serene and picturesque setting for anglers of all skill levels.
Anglers visiting Mountain Island Lake can expect a diverse range of fish species to target. The lake is renowned for its populations of largemouth bass, crappie, catfish, and sunfish. Largemouth bass are a popular catch at Mountain Island Lake, with the lake's structure and abundant vegetation providing ideal habitat for these prized game fish. Anglers can employ various techniques, such as topwater lures and plastic worms, to entice the bass into biting. Crappie are also plentiful in the lake, and anglers can find them around submerged structures and brush piles. Catfish, including channel catfish and flathead catfish, are abundant in the deeper parts of the lake, offering exciting opportunities for catfish enthusiasts. Sunfish can be found near the shorelines, providing a fun and accessible fishing experience for all ages.
Mountain Island Lake in North Carolina is a fantastic destination for anglers seeking a peaceful and picturesque fishing adventure. With its diverse fish species, including bass, crappie, catfish, and sunfish, there are plenty of opportunities to reel in a memorable catch. Boating on the lake's calm waters and camping near its shores enhance the overall outdoor experience. Whether you're a seasoned angler or a nature enthusiast, Mountain Island Lake offers a serene setting to enjoy fishing and appreciate the natural beauty of North Carolina.

Primary fish species residing in Mountain Island Lake
Click images for fishing tips and details about each species.
Mountain Island Lake Amenities
Marina: NO
Boat Rental: NEARBY
Boat Launch Ramp: YES
Campgrounds: NEARBY
RV Hookups: NEARBY
Lodging: NEARBY
Convenience Store: NEARBY
Bait & Tackle: NEARBY
Restaurant: NEARBY
Today's Weather & Forecast
Boating is a popular activity on Mountain Island Lake, and there are public boat ramps available for easy access to the water. Whether you prefer a motorized boat or enjoy paddling in a kayak or canoe, the lake's calm waters provide an excellent environment for boating and exploring. Boaters can take in the scenic beauty, navigate through the coves and channels, and find their favorite fishing spots. It's important to follow boating regulations and safety guidelines to ensure a safe and enjoyable experience on the water.
Public Boat Launch Ramps & Landings
Mountain Island Kayak Access
Located at the north end of 60' Access Road, in the eastern sector of the lake, this access has parking, a portage area and a dock.
Neck Road Boat Ramp
Situated on the northeast sector of the lake, off Duke Access Road, this two-lane, concrete launch ramp has a dock and sufficient, paved parking.
Riverbend Boat Ramp
Locates immediately east of the NC Highway 16, on the north side of the lake, this access is nicely appointed with a four-lace, concrete ramp, two docks and a generous amount of paved parking.
Click here for a North Carolina Fishing License.
While camping is not available directly at Mountain Island Lake, there are nearby campgrounds and accommodations that provide convenient access to the lake. These campgrounds offer amenities such as picnic areas, restrooms, and beautiful views of the surrounding natural landscapes. Camping near Mountain Island Lake allows anglers to extend their fishing trips and fully immerse themselves in the outdoor experience.
Campgrounds & RV Parks Nearby
Fieldridge Acres Campground - 704 399-3521
Wildlife Woods Campground - 704 483-5611
Mountain Island Lake NC Map - Fishing & Camping Areas
Contact Information
Mountain Island Lake
Catawba Riverkeeper Foundation
715 N. Church St, Suite 120
Charlotte, NC 28202
704 679-9494
Fishing lakes in each state.
Mountain Island Lake in North Carolina.
NORTH CAROLINA


Crappie, perch, bass and catfish fishing in southwest NC.
Fishing at Mountain Island Lake, in North Carolina.