Fishing At Lake Mattamuskeet
AKA: Mattamuskeet Lake, Mattamuskeet Reservoir
What to fish for...
Guide to fishing for largemouth bass, channel catfish, black crappie, bluegill, pumpkinseed sunfish, redear sunfish, warmouth, white perch, yellow perch and bowfin at Lake Mattamuskeet in North Carolina.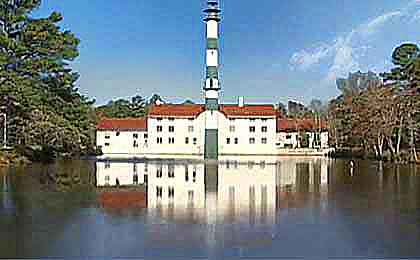 Known as much for crabbing as it is for fishing, Lake Mattamuskeet is a unique fishery. This 40,000-acre reservoir near the eastern edge of the state, at Fairfield, NC is a national wildlife refuge. The lake is quite shallow in many areas. A series of canals off the lake proper are deeper than the majority of the lake. These canals provide spawning areas during spring and can be the most productive areas to fish during this season. The main targets here are black crappie, channel catfish, white perch and largemouth bass. Much of the shoreline is accessible for fishing from the bank. Kayaks and canoes are a popular way to navigate these waters and fish some of the shallower areas.
The purpose of this page is to deliver an overview of this lake, the fishing options, and area amenities. Our goal is to provide info to first time visitors, as well as beginner and novice anglers. We gathered details from personal experience, numerous trusted websites, and videos of fishing activity on the lake. These websites include the North Carolina Wildlife Resources Commission, marinas at the lake, campgrounds, boat rental agencies and others. By consolidating this information to one page it allows visitors to see the entire picture, all in one place.
Lake Video
Lake Mattamuskeet, located in North Carolina, is the largest natural lake in the state and a popular destination for fishing, birdwatching, and outdoor recreation. Spanning over 40,000 acres, this shallow lake offers a diverse ecosystem and abundant fish populations, making it a haven for anglers.
Fishing at Lake Mattamuskeet presents anglers with various species to target. The lake is well-known for its excellent freshwater fishing, particularly for largemouth bass, crappie, sunfish, and catfish. Largemouth bass thrive in the lake's waters, providing exciting opportunities for anglers to catch trophy-sized fish. Crappie can be found near submerged structures, while sunfish are abundant along the lake's edges. Catfish enthusiasts can enjoy targeting channel catfish and bullheads using a variety of fishing techniques.
While camping facilities are not available directly at Lake Mattamuskeet, nearby accommodations and campgrounds allow visitors to stay in the area and explore the lake and its surroundings.
Lake Mattamuskeet offers a unique and diverse fishing experience in North Carolina. With its expansive size, abundant fish populations, and stunning natural beauty, the lake attracts anglers, birdwatchers, and outdoor enthusiasts alike. Whether you're casting your line for bass, exploring the lake's birdlife, or simply enjoying a peaceful boating excursion, Lake Mattamuskeet provides a memorable outdoor experience in the heart of North Carolina's scenic landscape.

Primary fish species residing in Lake Mattamuskeet
Click images for fishing tips and details about each species.
Lake Mattamuskeet Amenities
Marina: NO
Boat Rental: NO
Boat Launch Ramp: YES
Campgrounds: YES
RV Hookups: YES
Lodging: YES
Convenience Store: YES
Bait & Tackle: NO
Restaurant: YES
Today's Weather & Forecast
Boating is a popular activity on Lake Mattamuskeet, with public boat ramps available for easy access to the water. Whether you prefer motorized boats or non-motorized options like kayaks and canoes, the lake provides ample space for exploring and finding the best fishing spots. Boaters can take in the breathtaking scenery, navigate through the lake's marshy areas, and enjoy a peaceful day on the water.
Public Boat Launch Ramps & Landings
Lake Mattamuskeet Boat Ramp
Located at the intersection of Piney Woods Road and Turnpike Road, on the west side of the lake, is a small boat ramp and dock with primitive parking.
Click here for a North Carolina Fishing License.
Lake Mattamuskeet is also renowned for its diverse birdlife, making it a paradise for birdwatchers and nature enthusiasts. The lake serves as an important stopover for migratory waterfowl, including ducks, geese, swans, and shorebirds. Birdwatchers can witness impressive gatherings of these species, especially during the fall and winter months.
Campgrounds & RV Parks Nearby
Osprey Nest Campground - 252 926-4491
Mattamuskeet Campground - 252 926-2473
Pungo Camp Ground - 252 935-5023
Lake Mattamuskeet NC Map - Fishing & Camping Areas
Contact Information
Lake Mattamuskeet
Mattamuskeet National Wildlife Refuge
85 Mattamuskeet Road
Swan Quarter, NC 27885
252-926-4021
Fishing lakes in each state.
Lake Mattamuskeet in North Carolina.
NORTH CAROLINA


Black crappie, channel catfish, white perch, and bass fishing in eastern NC.
Fishing at Lake Mattamuskeet, in North Carolina.