Fishing At Harris Lake
AKA: Shearon Harris Reservoir, Shearon Harris Lake
What to fish for...
Guide to fishing for largemouth bass, channel catfish, flathead catfish, blue catfish, black crappie, bluegill, white bass, white perch and northern pike at Harris Lake in North Carolina.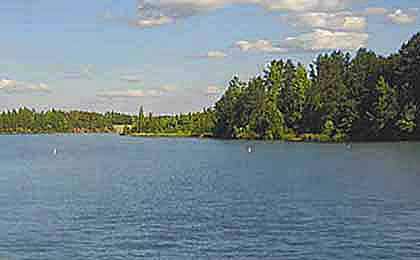 With 140 miles of shoreline and an average depth of less than 20 feet, Shearon Harris Lake gets very little notoriety. However, those who fish this 4,100-acre reservoir in the northeast part of the state are rewarded with catches worthy of note. The lake contains a healthy population of bass, catfish, crappie, sunfish, white bass and northern pike. The primary targets here are bass and crappie. Bass over 10 pounds and crappie over 2 pounds swim in this lake. Nutrient-rich water with aquatic vegetation for cover makes this a very healthy fishery. Bring everything you need for your trip as the lake has little or no services for boating, fishing or camping. There are public boat ramps for easy launching.
Harris Lake, located in North Carolina, is a popular destination for fishing enthusiasts seeking a variety of fish species and outdoor recreational activities. This 4,100-acre reservoir offers excellent fishing opportunities and is known for its diverse fish population.
One of the main attractions of Harris Lake is its thriving largemouth bass population. Anglers can enjoy targeting bass using a variety of techniques such as topwater lures, crankbaits, and soft plastics. The lake's structure, including submerged trees, brush piles, and rocky points, provides ample hiding spots for bass, making it an exciting challenge for anglers to locate and catch them. Harris Lake is recognized for producing trophy-sized bass, making it a favorite spot for avid bass anglers.
In addition to largemouth bass, Harris Lake is home to other popular fish species. Crappie, both black and white, can be found throughout the lake, particularly around submerged structures and brush piles. Anglers targeting crappie often use jigs or live minnows to entice these tasty fish. Catfish, including channel catfish and blue catfish, are abundant in the lake and provide excellent angling opportunities. Fishing for catfish can be productive using cut bait, stink bait, or live bait.
Boating is a popular activity on Harris Lake, and the lake offers boat ramps and a marina for easy access. Anglers can explore the lake's different sections and find their preferred fishing spots. Whether you prefer cruising in a motorized boat or paddling in a kayak, Harris Lake provides ample space for boating and allows anglers to reach their desired fishing locations.
Camping facilities are available near Harris Lake, allowing visitors to extend their fishing trip and immerse themselves in the beauty of nature. The lake offers designated camping areas and RV hookups for those looking for overnight stays. Camping near Harris Lake provides anglers with the opportunity to fully enjoy the fishing experience and appreciate the peacefulness of the surroundings.
Harris Lake in North Carolina is a haven for anglers seeking a diverse range of fish species and outdoor adventures. With its abundant largemouth bass, crappie, and catfish, the lake offers plenty of fishing opportunities for anglers of all levels of experience. Boating on the lake's expansive waters and camping in the nearby facilities enhance the overall fishing experience. Whether you're chasing trophy bass or spending a relaxing day on the water, Harris Lake provides a memorable fishing experience amidst beautiful natural surroundings.

Primary fish species residing in Harris Lake
Click images for fishing tips and details about each species.
Harris Lake Amenities
Marina: NO
Boat Rental: NO
Boat Launch Ramp: YES
Campgrounds: NEARBY
RV Hookups: NEARBY
Lodging: NEARBY
Convenience Store: NEARBY
Bait & Tackle: NEARBY
Restaurant: NEARBY
Today's Weather & Forecast
Public Boat Launch Ramps & Landings
Harris Lake Boat Ramp
233 Crosspoint Rd, New Hill, NC 27562
Located off Highway 42, in the southwest corner of the lake, this launch area offers a four-lane ramp, docks and plenty of paved parking.
Shearon Harris Boat Launch
Four lanes of concrete launch ramps. three docks and about one hundred paved parking spots.
Click here for a North Carolina Fishing License.
Campgrounds & RV Parks Nearby
Cotten's RV Campground - 919 542-3812
Harris Lake NC Map - Fishing & Camping Areas
Lake Video
Contact Information
Harris Lake
Harris Lake County Park
2112 County Park Dr
New Hill, NC 27562
919 387-4342
Fishing lakes in each state.
Harris Lake in North Carolina.
NORTH CAROLINA


Bass and crappie fishing in northeast NC.
Fishing at Harris Lake, in North Carolina.