Guide To Fishing At Mayo Lake
AKA: Mayo Reservoir
What to fish for...
Fishing for largemouth bass, channel catfish, black crappie, bluegill, bowfin and chain pickerel at Mayo Reservoir in North Carolina.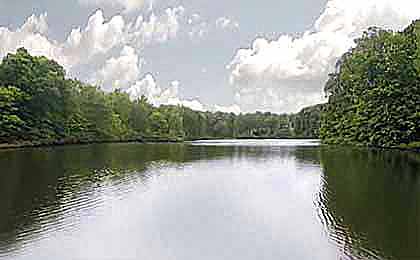 Bass and crappie are the primary target of anglers at Mayo Reservoir in the north-central part of the state. This is a 2,800-acre lake lots of shoreline, pockets, channels and docks to fish. Catfish, sunfish, pike and bowfin also call Mayo Lake their home and can add to your fishing experience. If you enjoy fishing from a kayak or canoe, this is a great place to experience. Kayak and canoe launch areas are available at Mayo Lake Park. There is a great boat launch for larger craft, a campground with RV hookups and a fishing pier. There is ample places around the lake to fish from shore.
Mayo Lake, located in North Carolina, is a picturesque reservoir that offers a fantastic fishing experience for anglers of all skill levels. Spanning over 2,800 acres, this lake is nestled amidst scenic woodlands, providing a serene and tranquil environment for fishing enthusiasts.
Anglers visiting Mayo Lake can expect a diverse range of fish species to target. The lake is well-known for its populations of largemouth bass, crappie, catfish, and sunfish. Largemouth bass are a popular catch, with the lake offering plenty of structure and vegetation for them to thrive. Crappie can be found around submerged brush piles and drop-offs, providing exciting opportunities for anglers to reel them in. Catfish, including channel catfish and flathead catfish, are abundant in the deeper sections of the lake, while sunfish can be caught near the shorelines and around the lake's structures.
Boating is a common activity on Mayo Lake, with boaters having access to public boat ramps for easy launching. Whether you prefer a motorized boat or enjoy the tranquility of paddling in a kayak or canoe, the lake's calm waters provide an excellent setting for exploring and finding the best fishing spots. Boaters can enjoy the scenic views, navigate through the coves and channels, and have the opportunity to reel in their favorite fish species.
Camping facilities are available near Mayo Lake, allowing anglers and outdoor enthusiasts to extend their stay and fully immerse themselves in the natural surroundings. Whether you prefer tent camping or RV camping, there are campgrounds and designated camping areas that offer amenities such as picnic tables, grills, and restroom facilities. Camping near Mayo Lake allows anglers to wake up to the sounds of nature, fish at their leisure, and enjoy the peaceful ambiance of the lake.
Mayo Lake in North Carolina is a hidden gem for fishing enthusiasts seeking a serene and rewarding fishing experience. With its diverse fish species, including bass, crappie, catfish, and sunfish, anglers have plenty of opportunities to test their skills and reel in their desired catch. Boating on the lake's calm waters and camping near its scenic shores add to the overall outdoor experience. Whether you're a seasoned angler or a beginner, Mayo Lake offers a tranquil setting for fishing and enjoying the beauty of nature in North Carolina.

Primary fish species residing in Mayo Lake
Click images for fishing tips and details about each species.
Mayo Lake Amenities
Marina: NEARBY
Boat Rental: NO
Boat Launch Ramp: YES
Campgrounds: YES
RV Hookups: YES
Lodging: NEARBY
Convenience Store: YES
Bait & Tackle: NO
Restaurant: NEARBY
Today's Weather & Forecast
Public Boat Launch Ramps & Landings
Triple Springs Access Area
Located in Mayo Lake Park, mid lake on the east side of the lake, this three-lane, concrete boat ramp has four docks and a large gravel area for parking.
Click here for a North Carolina Fishing License.
Campgrounds & RV Parks Nearby
Mayo Lake Park Campground - 336 597-7806
Mayo Reservoir NC Map - Fishing & Camping Areas
Lake Video
Contact Information
Mayo Lake
Mayo Lake Park
1013 Neal's Store Rd
Roxboro, NC 27574
336 597-7806
Fishing lakes in each state.
Mayo Lake in North Carolina.
NORTH CAROLINA


Catfish, sunfish and pike fishing in north-central NC.
Fishing at Mayo Reservoir, in North Carolina.