Fishing At Hiwassee Lake
AKA: Hiwassee Reservoir, Lake Hiwassee
What to fish for...
Guide to fishing for largemouth bass, smallmouth bass, spotted bass, channel catfish, black crappie, walleye, bluegill, white bass, yellow perch and striped bass at Hiwassee Lake in North Carolina.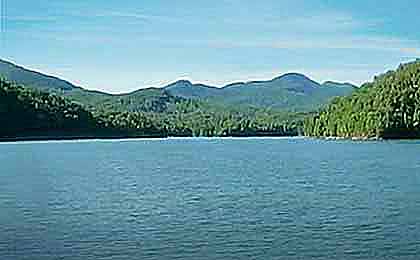 Home of the state record for both smallmouth bass and striped bass, Hiwassee Reservoir is a 6,200-acre lake in the southwest corner of the state. There is 180 miles of shoreline to explore while searching for the bass, catfish, crappie, walleye, sunfish and striped bass which reside in this 200 feet-deep reservoir. Whether fishing from a fancy bass boat, a canoe, a kayak or any other watercraft, you'll find plenty of area for fishing. The lake is also quite friendly to anglers preferring shoreline fishing. Three marinas serve the boating public with full marina services, including boat rentals. Campgrounds with RV spaces are conveniently located nearby the lake.
The purpose of this page is to deliver an overview of this lake, the fishing options, and area amenities. Our goal is to provide info to first time visitors, as well as beginner and novice anglers. We gathered details from personal experience, numerous trusted websites, and videos of fishing activity on the lake. These websites include the North Carolina Wildlife Resources Commission, marinas at the lake, campgrounds, boat rental agencies and others. By consolidating this information to one page it allows visitors to see the entire picture, all in one place.
Lake Video
Hiwassee Lake, located in North Carolina, is a picturesque destination known for its excellent fishing opportunities and scenic beauty. The lake is nestled amidst the Nantahala National Forest, providing anglers with a serene and peaceful environment to enjoy their fishing adventures.
One of the popular species found in Hiwassee Lake is the smallmouth bass. Anglers are drawn to the lake for the chance to catch these feisty and hard-fighting fish. Smallmouth bass can be found in rocky areas, submerged logs, and near the lake's shoreline. Anglers often use various techniques such as casting crankbaits, jigs, and soft plastics to entice these aggressive bass. The clear waters of Hiwassee Lake make it an ideal spot for targeting smallmouth bass.
In addition to smallmouth bass, Hiwassee Lake is home to other sought-after species. Largemouth bass can be found in the lake's weedy areas and around structure, offering anglers an additional angling opportunity. Crappie, catfish, and sunfish are also plentiful, providing a diverse range of fishing options for anglers of all skill levels. Whether you prefer casting for bass or dropping a line for crappie, Hiwassee Lake offers something for every angler.

Primary fish species residing in Hiwassee Lake
Click images for fishing tips and details about each species.
Hiwassee Lake Amenities
Marina: YES
Boat Rental: YES
Boat Launch Ramp: YES
Campgrounds: YES
RV Hookups: YES
Lodging: NEARBY
Convenience Store: YES
Bait & Tackle: YES
Restaurant: NEARBY
Today's Weather & Forecast
Boating is a popular activity on Hiwassee Lake, allowing anglers and recreational enthusiasts to explore the vast expanse of water. Boaters can take advantage of the boat ramps and marinas available for convenient access to the lake. Whether you're cruising in a motorized boat, paddling in a kayak, or enjoying a peaceful day of canoeing, Hiwassee Lake offers plenty of space and opportunities for boating.
Fishing Boat Rentals
Dukes Hideaway Marina
Rentals: Pontoon boats
828 835-3332
Harbor Cove Marina
Rentals: Pontoons, kayaks and paddleboards
828 644-5253
Mountain View Marina
Rentals: Kayaks and pontoon boats
828 644-5451
Shooks Marina
Rentals: Fishing boats, kayaks and pontoon boats
828 837-2863
Marinas
Dukes Hideaway Marina
555 Duke Lodge Rd
Murphy, NC 28906
828 835-3332
Harbor Cove Marina
400 Harbor Cove Ln
Murphy, NC 28906
828 644-5253
Mountain View Marina
200 Dean Aldrich Dr
Murphy, NC 28906
828 644-5451
Shooks Marina
11003 Joe Brown Hwy
Murphy, NC 28906
828 837-2863
Public Boat Launch Ramps & Landings
2070 National Forest Boating Access
This is a primitive boat launch ramp with limited parking.
Hanging Dog Boat Ramp
This two-lane boat ramp has a dock and unimproved parking.
Hiwassee - Mickens Boat Ramp
Plenty of paved parking and a boat dock enhance this two-lane launch ramp. It is located at the southern end of Michen Branch road in the northwest sector of the lake.
Ramsey Bluff Boating Access
This is a primitive boat launch ramp with limited parking.
Click here for a North Carolina Fishing License.
Camping facilities near Hiwassee Lake provide a chance to extend your fishing trip and immerse yourself in the natural beauty of the area. Campgrounds and RV parks in the surrounding vicinity offer amenities for overnight stays, allowing anglers to relax and enjoy the tranquility of the lake. Camping near Hiwassee Lake provides the perfect opportunity to wake up to the sounds of nature, fish from the shore, and make lasting memories.
Campgrounds & RV Parks Nearby
Crawford's Campground - 828 837-9077
Murphy - Peace Valley KOA Campground - 828 837-6223
Hiwassee Lake NC Map - Fishing & Camping Areas
Contact Information
Hiwassee Lake
Shooks Marina & Boat Rentals
11003 Joe Brown Hwy
Murphy, NC 28906
828 837-2863
Fishing lakes in each state.
Hiwassee Lake in North Carolina.
NORTH CAROLINA


Smallmouth bass and striped bass fishing in southwest NC.
Fishing at Hiwassee Lake, in North Carolina.