Guide To Fishing At Lake Santeetlah
AKA: Santeetlah Lake
What to fish for...
Fishing for largemouth bass, smallmouth bass, black crappie, white crappie, walleye, rainbow trout, brown trout, bluegill, bream and yellow perch at Santeetlah Lake in North Carolina.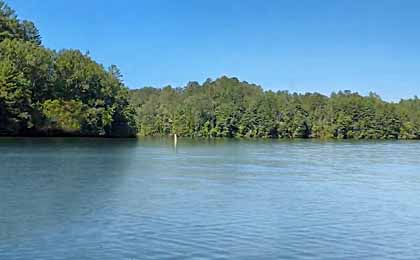 Located amidst the North Carolina Smoky Mountains, Lake Santeetlah is a 2,880-acre gem for boating and fishing enthusiasts. In the western part of the state, at Santeetlah, NC, it has all the amenities for vacationing on and off the water. Runabouts, deck boats, pontoon boats, canoes and kayaks are for rent on the lake. Come fish for smallmouth and largemouth bass, trout and sunfish, where the entire family can enjoy fishing success. The lake has plenty of coves, creek channels and pockets for the fish to call home, and the anglers to seek out. Water ski the main lake areas or quietly fish the backs of the creeks during spring and fall.
Lake Santeetlah, located in the picturesque mountains of North Carolina, is a hidden gem for fishing enthusiasts seeking a peaceful and rewarding experience. This pristine lake spans approximately 2,800 acres and is nestled within the Nantahala National Forest, offering breathtaking natural scenery.
Anglers visiting Lake Santeetlah can expect a variety of fish species that populate its clear waters. The lake is known for its exceptional trout fishing, including both rainbow trout and brown trout. These elusive and prized game fish thrive in the cold, oxygen-rich waters of the lake, providing an exciting challenge for anglers. Fly fishing is particularly popular on Lake Santeetlah, with its numerous secluded coves and quiet stretches of shoreline offering ideal spots for casting lines.
Apart from trout, Lake Santeetlah is home to other sought-after species, including smallmouth bass and largemouth bass. Bass fishing is popular in the lake, thanks to its rocky shorelines, submerged structures, and abundant vegetation that serve as ideal habitats for these feisty fighters. Anglers can target bass using a variety of techniques, such as casting lures, flipping jigs, or topwater fishing.
Boating is a popular activity on Lake Santeetlah, and visitors can enjoy exploring its pristine waters in various watercraft. Whether it's a motorboat, kayak, canoe, or paddleboard, there are options for everyone to navigate the lake and find their favorite fishing spots. The calm and serene atmosphere of the lake enhances the boating experience, allowing anglers to fully immerse themselves in the beauty of their surroundings.
Camping opportunities abound near Lake Santeetlah, allowing anglers and outdoor enthusiasts to extend their stay and enjoy the tranquility of the area. There are several campgrounds in the surrounding national forest, offering a range of amenities such as campsites, picnic areas, and hiking trails. Camping near Lake Santeetlah provides a unique opportunity to connect with nature and fully appreciate the peaceful ambiance of the mountains.
Lake Santeetlah in North Carolina is a haven for anglers seeking a serene and rewarding fishing experience. With its abundance of trout, bass, and other fish species, the lake offers ample opportunities for angling enthusiasts. Boating and camping options further enhance the outdoor experience, allowing visitors to fully immerse themselves in the natural beauty of the surrounding area. Whether you're casting a line for trout, chasing bass, or simply enjoying the peaceful ambiance, Lake Santeetlah is a must-visit destination for fishing and relaxation in North Carolina.

Primary fish species residing in Lake Santeetlah
Click images for fishing tips and details about each species.
Santeetlah Lake Amenities
Marina: YES
Boat Rental: YES
Boat Launch Ramp: YES
Campgrounds: YES
RV Hookups: YES
Lodging: YES
Convenience Store: YES
Bait & Tackle: NO
Restaurant: NEARBY
Today's Weather & Forecast
Fishing Boat Rentals
Santeetlah Boat Rentals
Rentals: canoes, kayaks, deck boats and pontoons
828 479-7422
Santeetlah Marina
Rentals: canoes, kayaks, deck boats and pontoons
828 479-8180
Marinas
Santeetlah Marina
1 Marina Dr
Lake Santeetlah, NC 28771
828 479-8180
Public Boat Launch Ramps & Landings
Avey Branch Boat Ramp
This is a small concrete boat ramp with unimproved parking. It is located in the northwest corner of the lake, off Joyce Kilmer Road.
Blue Boar Boat Launch
This is a primitive launch ramp and parking. It does have a dock. It is located in the southwest corner of the lake off Blue Boar Road.
Cheoah Point Boating Access
This single-lane, concrete ramp has a dock and limited, paved parking. It is situated in the north-central portion of the lake, on Cheoah Point Road.
Massey Branch Boat Launch
Located in the southeast corner of the lake, off Cherohala Skyway Highway, this dual-lane, concrete ramp with a dock and paved parking.
Click here for a North Carolina Fishing License.
Campgrounds & RV Parks Nearby
Cheoah Point Campground - 828 479-6431
Santeetlah Lake NC Map - Fishing & Camping Areas
Lake Video
Contact Information
Lake Santeetlah
Santeetlah Marina
1 Marina Dr
Robbinsville, NC 28771
828 479-8180
Fishing lakes in each state.
Santeetlah Lake in North Carolina.
NORTH CAROLINA


Smallmouth, largemouth and trout fishing in western NC.
Fishing at Santeetlah Lake, in North Carolina.