Guide To Fishing At Kerr Lake
AKA: John H. Kerr Reservoir
What to fish for...
Fishing for largemouth bass, smallmouth bass, channel catfish, flathead catfish, blue catfish, black crappie, white bass, white perch and striped bass at Kerr Lake in North Carolina.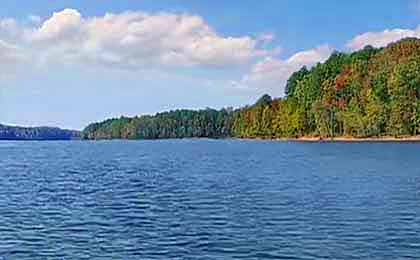 If you enjoy catching a variety of species, Kerr Lake is a reservoir made to fulfill your dreams. While fishing for bass here, you may also catch white bass, perch, stripers, or crappie - all on the same lures. This 50,000-acre reservoir, located on the northern border of the state, has healthy populations of fish species including sunfish and plenty of bait fish. Pick your favorite stretch of the 850 miles of shoreline and wet a line. Fishing from boats, kayaks, canoes or from shore all produce ate this healthy fishery. During spring and fall the fish tend to favor shoreline areas, while moving deeper and schooling up during summer and winter. Locating schools of fish here may take some exploring, but once you do the action is likely to be hot and heavy. With marinas and campgrounds scattered around the lake you can easily locate most any services you require to enhance your stay at John H. Kerr Reservoir.
Kerr Lake, also known as Buggs Island Lake, is a popular fishing destination in North Carolina, offering anglers a wide range of fish species and a variety of outdoor recreational activities. This expansive reservoir covers over 50,000 acres, making it one of the largest lakes in the state.
Fishing at Kerr Lake is renowned for its excellent striped bass population. Anglers flock to the lake in search of these hard-fighting and sought-after game fish. The lake's abundance of shad provides a rich food source for striped bass, leading to impressive catches. Trolling with artificial lures or live bait is a popular method for targeting striped bass at Kerr Lake, especially in the spring and fall when they are most active.
In addition to striped bass, Kerr Lake offers excellent fishing opportunities for other species as well. Largemouth bass, crappie, and catfish are plentiful in the lake. Anglers can target largemouth bass by casting around submerged structures, while crappie can be found around brush piles and bridge pilings. Catfish enthusiasts can enjoy fishing for both channel and flathead catfish using a variety of techniques such as bottom fishing or jug fishing.
Boating is a favored activity at Kerr Lake, with ample space for all types of watercraft. The lake features numerous boat ramps, allowing easy access to the water. Whether you prefer fishing from a powerboat, pontoon boat, kayak, or canoe, Kerr Lake provides plenty of room to explore and find your favorite fishing spots. Boaters can enjoy the scenic beauty of the lake, explore its secluded coves and islands, and try their luck in different fishing areas.
Camping facilities are available near Kerr Lake, providing anglers and outdoor enthusiasts with the opportunity to extend their stay and enjoy the natural surroundings. The lake offers several campgrounds with various amenities, including picnic areas, hiking trails, and access to the water. Camping near Kerr Lake allows anglers to wake up to the sounds of nature, fish at their leisure, and enjoy the peacefulness of the outdoors.
Kerr Lake in North Carolina is a prime fishing destination that offers anglers a variety of fish species and a wealth of outdoor activities. Whether you're targeting striped bass, largemouth bass, crappie, or catfish, the lake provides ample opportunities for a successful fishing trip. Boating on the lake's expansive waters and camping in the nearby facilities further enhance the overall experience. Kerr Lake is a must-visit destination for anglers and nature lovers seeking a memorable fishing adventure in North Carolina.

Primary fish species residing in Kerr Lake
Click images for fishing tips and details about each species.
Kerr Lake Amenities
Marina: YES
Boat Rental: YES
Boat Launch Ramp: YES
Campgrounds: YES
RV Hookups: YES
Lodging: YES
Convenience Store: NEARBY
Bait & Tackle: NEARBY
Restaurant: NO
Today's Weather & Forecast
Fishing Boat Rentals
Steele Creek Marina
Rentals: Kayaks and pontoon boats

Marinas
Satterwhite Point Marina
6470 Satterwhite Point Road
Henderson, NC 27537
252 430-1300
Steele Creek Marina
Henderson, NC 27537
252 492-1426
Public Boat Launch Ramps & Landings
County Line Boat Ramp
This two-lane concrete boat launch ramp is located in County Line Park. It includes docks and paved parking.
Flemingtown Boat Ramp
Located at the end of Flemingtown Road, on the eastern side of the lake, this three-lane ramp has three docks and ample unpaved parking.
Henderson Point Boat Ramp
Located in the northeast corner of the NC portion of the lake, this two-lane concrete launch ramp features a dock and plenty of paved parking. Access is via Rev Henderson Road.
Hibernia Boat Ramp
Located in the Kerr Lake State Park, on the west side of the lake, this two-lane, concrete launch ramp has a dock and ample, paved parking.
Kerr Reservoir Boat Ramp
Located at the west end of the Nutbrush Road Bridge, there are two boat launch ramps. One is a four-lane, concrete ramp with two docks and oodles of parking. The other is a single-lane ramp with one dock and paved parking for ten vehicles with trailers.
Kimball Point Boat Ramp
Located on Kimball Point, on the east side of the lake, just south of the state line, this is a simple, one-lane, concrete ramp with primitive parking.
Satterwhite Boat Ramp
Located on Satterwhite Point, this is a two-lane launch ramp with a dock. The paved parking is not at the ramp, but nearby.
Click here for a North Carolina Fishing License.
Campgrounds & RV Parks Nearby
Kerr Lake State Recreation Area Campground - 252 492-4826
Rudds Creek Campground - 434 738-6827
North Bend Park & Campground - 434 738-0059
Kerr Lake NC Map - Fishing & Camping Areas
Lake Video
Contact Information
Kerr Lake
Steele Creek Marina & Campground
1603 Townsville Landing Road
Henderson, NC 27536
252 492-1426
Fishing lakes in each state.
Kerr Lake in North Carolina.
NORTH CAROLINA


Striper, sunfish and bass fishing in northern NC.
Fishing at Kerr Lake, in North Carolina.