Fishing At Lake Hickory
AKA: Hickory Lake, Hickory Reservoir
What to fish for...
Guide to fishing for largemouth bass, channel catfish, flathead catfish, black crappie, white crappie, bluegill, bream and striped bass at Lake Hickory in North Carolina.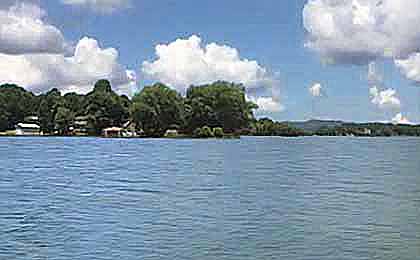 Becoming known as an excellent striper fishery, Lake Hickory is a great fishing destination. It is a 4,200-acre lake located in the north-central part of the state. There are plenty of additional fishing opportunities here as well. Bass, crappie and sunfish fishing attract anglers from far and wide. The lake annually hosts a substantial number of bass tournaments - generally with good results. Fishing for catfish is a favorite of locals and can yield some big cats at times. Striped bass are still the biggest draw. Read this great article for tips on striper fishing at Lake Hickory. There are several marinas on the lake, plenty of options for boat rentals, local fishing guides available, public boat ramps, and plenty of camping and lodging options near the lake. Come fish for a day or bring the family and make a vacation of fishing at Lake Hickory.
Lake Hickory, located in North Carolina, is a popular destination for anglers and outdoor enthusiasts. This 4,200-acre reservoir offers a variety of fishing opportunities and is known for its diverse fish population.
One of the most sought-after species in Lake Hickory is the largemouth bass. Anglers can enjoy the thrill of targeting bass using various techniques such as topwater lures, crankbaits, and soft plastics. The lake's structure, including submerged brush piles, rocky points, and boat docks, provides ideal habitats for bass. Lake Hickory is known for producing quality bass, with opportunities to catch both numbers and trophy-sized fish.
In addition to bass, Lake Hickory is home to other popular fish species. Crappie, both black and white, are abundant in the lake and can be found around submerged structures and brush piles. Anglers targeting crappie often use jigs or live minnows to entice these tasty fish. Catfish, including channel catfish and flathead catfish, also inhabit the lake and offer exciting angling opportunities. Fishing for catfish can be productive using cut bait, stink bait, or live bait.
Lake Hickory provides ample opportunities for boating enthusiasts. Anglers can explore the lake's expansive waters and access their favorite fishing spots with ease. The lake offers several boat ramps and marinas for convenient launching and docking. Whether you prefer cruising in a motorized boat, sailing, or paddling in a kayak, Lake Hickory accommodates various boating activities.
Camping facilities are available near Lake Hickory, allowing visitors to extend their fishing trip and enjoy the natural surroundings. There are campgrounds and RV parks in the area that offer amenities for overnight stays. Camping near Lake Hickory provides anglers with the opportunity to fully immerse themselves in the outdoor experience and enjoy the serene beauty of the lake.
Lake Hickory in North Carolina is a prime fishing destination, offering a diverse range of fish species and outdoor recreational activities. With its abundant largemouth bass, crappie, and catfish, the lake provides ample opportunities for anglers of all skill levels. Boating on the lake's vast waters and camping in the nearby facilities enhance the overall fishing experience. Whether you're chasing trophy bass or enjoying a peaceful day on the water, Lake Hickory offers a memorable fishing adventure in a beautiful natural setting.

Primary fish species residing in Lake Hickory
Click images for fishing tips and details about each species.
Lake Hickory Amenities
Marina: YES
Boat Rental: YES
Boat Launch Ramp: YES
Campgrounds: YES
RV Hookups: YES
Lodging: YES
Convenience Store: YES
Bait & Tackle: YES
Restaurant: NEARBY
Today's Weather & Forecast
Fishing Boat Rentals
Lake Hickory Marina and Boat Rental
Rentals: Fishing skiffs, kayaks, canoes and pontoon boats
828 855-2916
Lakeside Marina
Rentals: Fishing boats and pontoon boats
828 495-8181
Rivers Edge Marina
Rentals: Kayaks and canoes
828 495-8833
Marinas
Lake Hickory Marina and Boat Rental
6706 Limbaugh Ln
Hickory, NC 28601
828 855-2916
Lake Hickory Scuba & Marina
420 Taylorsville Beach Ct
Taylorsville, NC 28681
828 632-7649
Lakeside Marina
81 Marina Dr
Hickory, NC 28601
828 495-8181
Rivers Edge Marina
5803 Icard Ridge Rd
Hickory, NC 28601
828 495-8833
Public Boat Launch Ramps & Landings
Dusty Ridge Access Road Boat Ramp
Located in the northeast sector of the lake, this two-lane, concrete ramp includes a dock and paved parking.
Gunpowder Boat Ramp
Located at the south end of Hurricane Hill Road, in the northwest sector of the lake, this is a very nice two-lane launch ramps. It includes two docks and plenty of paved parking.
Wittenburg Access Area
Located west of the N Center Street Bridge, off Wildlife Access Road, this six-lane, concrete boat launch ramp has three docks and paved parking for up to 300 vehicles.
Click here for a North Carolina Fishing License.
Campgrounds & RV Parks Nearby
Lake Hickory RV Resort - 828 256-4303
Indian Springs Campground - 828 397-5700
Lake Hickory NC Map - Fishing & Camping Areas
Lake Video
Contact Information
Lake Hickory
Lakeside Marina
81 Marina Drive
Hickory, NC 28601
828 495-8181
Fishing lakes in each state.
Lake Hickory in North Carolina.
NORTH CAROLINA


Striped bass fishing in north-central NC.
Fishing at Lake Hickory, in North Carolina.